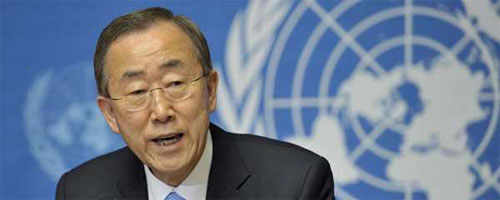 United Nations chief Ban Ki-moon on Monday condemned recent clashes between members of the former Seleka rebellion in the Central African Republic, urging armed groups to immediately end the violence.
These clashes between armed groups from ex-Seleka in Bria, northeast of Bangui, killed 85 people and displaced nearly 11 000 people, according to the UN.
The UN secretary-general called on armed groups to "immediately stop the violence and genuinely commit to ongoing efforts to address the root causes of the conflict," his spokesman said in a statement.
The clashes in Bria have pitted two armed factions of former Seleka, which claim to defend the Muslim minority, the Popular Front for the Rebirth of the Central African Republic (FPRC) of Nourredine Adam and the Union for Peace in the Central African Republic (UPC) of Ali Darass.
The country is struggling to emerge from a civil war that erupted in 2013 following the overthrow of former president Francois Bozize, a Christian, by Muslim rebels from the Seleka coalition.
The coup led to the formation of "anti-Balaka" vigilante units, drawn from the Christian majority, which began to target Muslims. Both sides committed widespread atrocities.