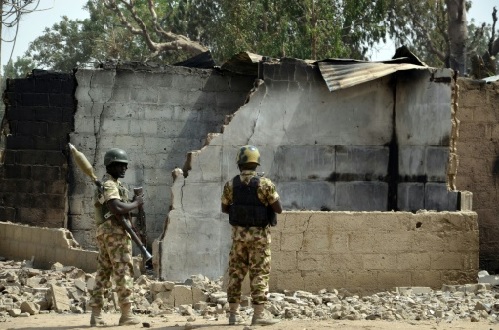 Nigerian President Muhammadu Buhari yesterday claimed the military had routed Boko Haram in a key northeastern stronghold, a year after saying the Islamist militants had been "technically" defeated. A campaign lasting for months in the 1,300 square-kilometer forest in northeastern Borno state led to the "final crushing of Boko Haram terrorists in their last enclave in Sambisa Forest" on Thursday, Buhari said in a statement.
The government in Abuja and the military have frequently claimed victories against the Islamic State group affiliate but access to the epi-centre of the conflict in Borno state is strictly controlled. That has made independent verification of official statements about victories virtually impossible. Attacks have meanwhile continued, making claims of defeating Boko Haram
questionable despite undoubted progress in pushing back the group. "The terrorists are on the run, and no longer have a place to hide. I urge you to maintain the tempo by pursuing them and bringing them to justice," Buhari said.
The announcement came after Nigeria launched a barrage of land and air assaults in Borno state at the heart of the insurgency that has spread to three neighboring countries-Chad, Cameroon and Niger. While the counter-insurgency has clawed back some territory, Boko Haram has responded by stepping up guerrilla tactics, ambushing troops when it can and terrorizing civilians when it cannot. Buhari's statement made no mention of the whereabouts of Abubakar Shekau, the leader of the Boko Haram faction based in the forest. Boko Haram, which last year pledged allegiance to IS, has been in the grips of a power struggle since late last year.
Shekau led Boko Haram for several years, until the IS command said in August that he had been replaced as leader by Abu Musab al- Barnawi, the 22-year-old son of the group's founder Mohammed Yusuf. Shekau says he is still in charge, however, as rival factions vie for control.