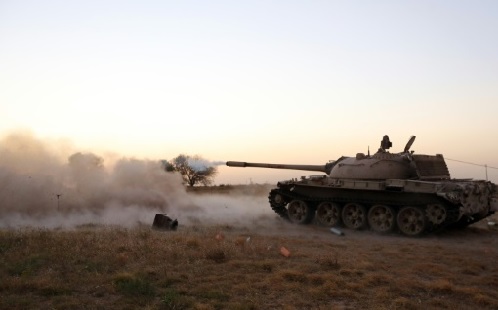 General Khalifa Haftar's Libyan National Army on Monday retook a district in Benghazi from Islamist militants after a clash that killed nine soldiers in two days, a military source said.
"We now control the district of Abu Sneib" in the southwest of the city, a commanding officer in Haftar's army said.
"Our forces now completely surround the Qanfuda area" nearby, the same source reported.
According to the source, 52 troops have died since the beginning of January in and around the Mediterranean port city.
Haftar, who is allied to the Tobruk-based House of Representatives, has managed to capture a large part of Benghazi from Islamist militants who seized control in 2014.
The central districts of al-Saberi and Souq al-Hout, however, still remain in the hands of extremist groups. Among these groups is the Revolutionary Shura Council of Benghazi, an alliance of Islamist militias that includes the al-Qaeda-linked Ansar al-Sharia.
Benghazi is Libya's second most populous city and was the cradle of the 2011 uprising that overthrew long time dictator Muammar Gaddafi.
Since then, Libya has descended into chaos, with the country's UN-backed Government of National Accord having failed to assert its authority.