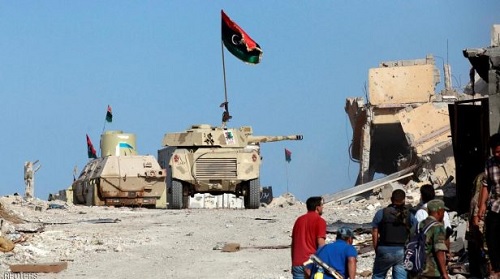 Forces loyal to Libya's eastern authorities Thursday battled to seize a southern air base, spokesmen for the forces said, as a rival unity government condemned the attack on its forces.
"The fighting has not stopped since yesterday" around the Tamenhant air base, said Mohammed Ghoneim, a spokesman for the self-proclaimed Libyan National Army.
Another spokesman for the LNA, which is loyal to Field Marshal Khalifa Haftar, said it had begun an offensive to retake the base in the suburbs of the southern city of Sebha.
The LNA carried out air strikes on the base on Wednesday, Ahmad al-Mesmari said, without mentioning casualties.
The Tripoli-based Government of National Accord, which Haftar has refused to recognise, condemned the "hostile attack" on the base, which it said "targeted GNA forces".
Haftar's forces say the Tamenhant base was a launching pad for rival fighters who seized key oil terminals from their control last month, before the LNA retook them days later.