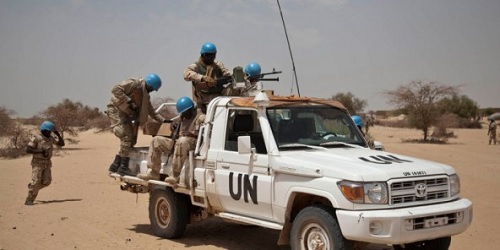 The United Nations peacekeeping forces in Central African Republic retook strategic points of Bangassou Monday after armed rebels attacked over the weekend, killing a peacekeeper at a nearby UN base and displacing several thousand, the United Nations said on Monday.
More than 1 000 residents had fled their homes and had taken refuge in a mosque; some 1 500 others in a cathedral; and 500 others in a hospital, humanitarian agencies said.
The UN forces pushed the Christian anti-Balaka rebels from areas around the mosque, allowing those inside to leave for a more secure area, according to UN mission spokesperson Herve Verhoosel.
"Airstrikes carried out all day on Monday have allowed the troops on the ground to reconquer strategic points of the city before held by the assailants," he said. "The UN force has also taken over and secured the mosque and the displaced who were inside."
A Moroccan peacekeeper was killed in Saturday's attack by some 700 anti-Balaka rebels who targeted Bangassou's Muslim district of Tokoyo and the UN base. Many residents said they locked themselves in their homes as the anti-Balaka forces controlled the city.