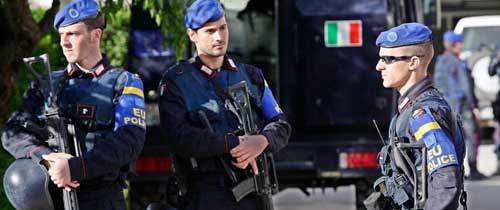 New Europol report warns that the Balkan region remains vulnerable to Islamist terrorism – and remains a well-established route to and from the conflict zones for terrorist fighters.
The EU's annual Terrorism Situation and Trend Report, released June 15, says terrorists are still joining the conflict in Syria from the Balkans, which remains a route to and from the conflict zones in the Middle East.
More than 800 foreign terrorist fighters have travelled to Syria to join the armed conflict there from the Western Balkans, it says.
Europol's June 15 report says the conflict in Syria has had major resonance in majority-Muslim Albania and Kosovo, as well as in Bosnia, Macedonia, and Serbia.
"In some parts of the Western Balkan region, radical Islamist ideology promoted by radical preachers and/or leaders of some salafist groups, challenging the traditional dominance of moderate Islam in the region, has gained considerable ground," it says.
"Bosnia and Herzegovina, the so-called Sandzak region [between Serbia and Montenegro], Albanian-speaking territories in Serbia and the former Yugoslav Republic of Macedonia, Kosovo, and Albania until recently were considered the main hotspots for radicalisation, recruitment, and facilitation activities of FTFs destined for Syria," the report added.
It says the region has become a well-established travel route to and from conflict zones in the Middle East.
Europol warns that the battle experiences gained amongst Western-Balkan returnee fighters may pose a significant threat to the region's security.