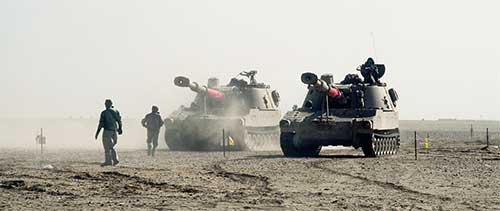 Lebanon's US-backed military is gearing up for a long-awaited assault to dislodge hundreds of Daesh militants from a remote corner near Syrian border, seeking to end a years-long threat posed to neighbouring towns and villages by the extremists.
The campaign will involve cooperation with the militant group Hezbollah and the Syrian army on the other side of the border – although Lebanese authorities insist they are not coordinating with Syrian President Bashar Assad's government.
But the assault could prove costly for the under-equipped military and risk activating Daesh sleeper cells in the country.
The tiny Mediterranean nation has been spared the wars and chaos that engulfed several countries in the region since the so-called Arab Spring uprisings erupted in 2011. But it has not been able to evade threats to its security, including sectarian infighting and random car bombings, particularly in 2014, when militants linked to Al-Qaida and Daesh overran the border region, kidnapping Lebanese soldiers.
The years-long presence of extremists in the border area has brought suffering to neighbouring towns and villages, from shelling, to kidnappings of villagers for ransom. Car bombs made in the area and sent to other parts of the country, including the Lebanese capital, Beirut, have killed scores of citizens.
Aided directly by the United States and Britain, the army has accumulated steady successes against the militants in the past year, slowly clawing back territory, including strategic hills retaken in the past week. Authorities say it's time for an all-out assault.
The planned operation follows a six-day military offensive by the Lebanon's Hizbollah that forced Al-Qaida-linked fighters to flee the area on the outskirts of the town of Arsal, along with thousands of civilians.