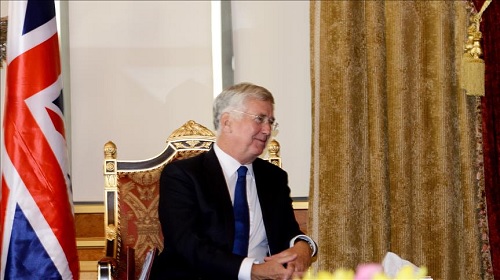 U.K. Defense Minister Michael Fallon arrived in Baghdad on Monday morning to discuss the ongoing fight against Daesh and Iraq's precarious political situation with Iraqi officials.
Iraqi Interior Minister Qassem al-Araji received the British defense minister at Baghdad's international airport this morning.
Fallon will meet with Iraqi defense and interior ministry officials to discuss the ongoing fight against Daesh.
In his discussions with Iraqi officials, Fallon is also expected to express his country's opposition to an upcoming referendum on Kurdish regional independence.
Slated for Sept. 25, the non-binding referendum will see residents of northern Iraq's semi-autonomous Kurdish region vote on whether or not to declare independence from Iraq.
Baghdad, for its part, firmly rejects the planned poll, saying it will adversely affect the fight against Daesh, which still maintains a significant presence in northern Iraq despite a string of recent military defeats.