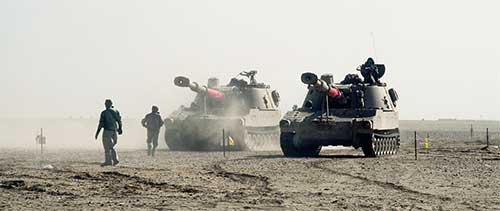 Turkey launched a military drill featuring tanks close to the Iraqi border on Monday, the army said, a week before Iraq's Kurdish region will hold an independence referendum.
Despite opposition from Turkey, Iran and the United States, the Kurdistan Regional Government's leaders have said they will hold the non-binding independence vote on Sept. 25.
Ankara has previously warned against the poll, saying it could risk "civil war" and will "have a cost" if it goes ahead.
Despite forging strong ties with the KRG in northern Iraq in recent years, Turkey fears the vote could stoke separatist aspirations among its own sizeable Kurdish minority.
Ankara's national security council will meet on Sept. 22 to discuss the country's official position on the poll but President Recep Tayyip Erdogan on Sunday said it was a "mistake".
He was speaking before leaving for the United Nations General Assembly, where he will meet Iraqi Prime Minister Haider Al-Abadi — whose Baghdad government is also fiercely against the KRG's move.
Jan Kubis, the top UN envoy in Iraq, last week offered international backing for immediate negotiations between the country's federal government and the autonomous region in a bid to get Iraqi Kurdish leader Massud Barzani to drop the plans.
The Turkish military exercise began in the Silopi-Habur region in the country's south, close to northern Iraq, the armed forces said.
"Simultaneously with this exercise, counter-terrorism operations in the border region continue," a statement added.
Witnesses in the region said they saw around 100 military vehicles deployed, including tanks, in the early hours of Monday.