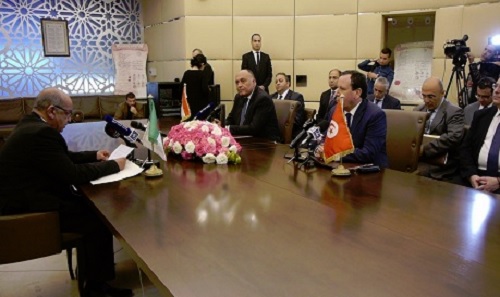 The tripartite ministerial meeting on Libya kicked off on Monday in Algiers, and foreign ministers of Algeria, Tunisia and Egypt discussed the developments in the conflict-ridden Libya.
Algerian Foreign Minister Abdelkader Messahel, his Egyptian counterpart Sameh Shoukry and Tunisian counterpart Khemaies Jhinaoui are expected to discuss the holding of a referendum on a new constitution in Libya, and the parliamentary and presidential elections that the United Nations intended to hold before the end of this year.
They will also discuss ways to strengthen the efforts to accelerate the peace and reconciliation process between Libyan disputing parties, according to a statement of the Algerian Foreign Ministry.
Three consultative meetings were already held over the issue of Libya, respectively in Algeria in June 2017, in Egypt in November 2017 and in Tunisia in December 2017.
These meetings are part of the periodic consultation among the three countries to help neighboring Libya end its civil war lasting for more than seven years, as armed clashes continue in the east and the south of the country.
Since the fall of Gaddafi regime in 2011, terrorist groups have been gaining ground and taking profit of the lack of a unified army and security services.