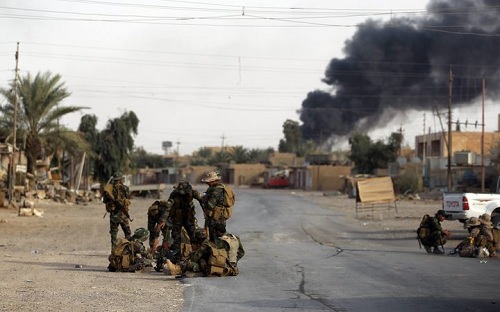 Tension has returned to the Moroccan-Algerian borders after militants from the Polisario Front launched maneuvers and parades, with the participation of Algerian officers and experts, in the Tifariti, region east of Morocco's defense wall.
Tifariti is located on the Moroccan side of the border with Algeria. Morocco withdrew its military forces from the region in 1991 and later labeled it an arms-free buffer zone within the framework of the Ceasefire Agreement with the Polisario, held under the auspices of the United Nations.
The United Nations Mission for the Referendum in Western Sahara (MINURSO) was established as a peacekeeping force in 1991 in wake of the ceasefire that was reached that same year.
In recent months, however, the Polisario has been trying to move its camps from the Algerian Tindouf area to the buffer zone on the Moroccan side of the border, because it considers these areas "Liberated Territories".
The maneuvers and parades in Tifariti were held on the anniversary of the launch of the Polisario's military operations against Morocco in the mid-1970s, drawing a strong condemnation from Rabat of these "provocative" actions.
"The Kingdom of Morocco considers this provocation a new and serious violation of the ceasefire and a blatant challenge to the authority of the Security Council," said the Foreign Ministry in a statement on Sunday.
Morocco has officially alerted the President, members of the Security Council, the UN Secretary-General and MINURSO, asking them to assume their responsibilities and to take the necessary measures against these unacceptable actions, the statement said.
"These acts of provocation seriously undermine UN efforts at a time when the Security Council has been calling for the relaunch of the political process with a view to reaching a realistic, pragmatic and sustainable solution to the regional dispute over the Moroccan Sahara," continued the ministry statement.
It added that Morocco asked the United Nations, specifically MINURSO, to fulfill its mandate against repeated violations of the ceasefire.