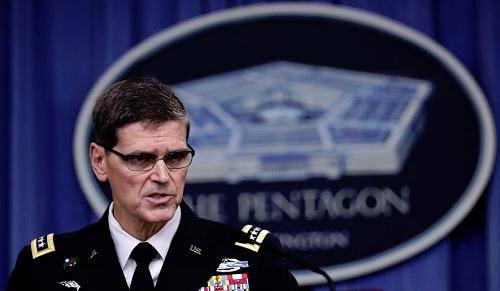 NATO's highly-anticipated military-adviser mission in Iraq is slated to go operational by this fall, the head of U.S. Central Command said Thursday.
Gen. Joseph Votel provided little detail as to how many NATO troops would be involved in the new training mission, which countries would be contributing troops to the mission, or how long the alliance's mission in the country would last. But the four-star general did note the alliance's increased effort in Iraq will be critical to maintaining long-term security in the country.
"The key to all of this is out stabilization efforts" in Iraq, including the new NATO initiative, he said during a teleconference with reporters at the Pentagon from command headquarters in Tampa.
Gen. Votel's announcement is the first indication of a concrete timeline in regards to the mission that has been released thus far. President Trump announced the new training mission during NATO's annual ministerial meeting, held at alliance headquarters in Brussels. During the meeting, Trump criticized that NATO countries were not prioritizing military efforts, urging allies to commit at least 4 percent of their respective GDPs to the cause.
The new military training and advising mission will be focused on resisting a potential re-emergence of the Islamic state rather than military efforts, said NATO Secretary General Jens Stoltenberg in early July.
Mr. Stoltenberg also added that the alliance will help set up military schools in Iraq to increase the professionalism of their forces.