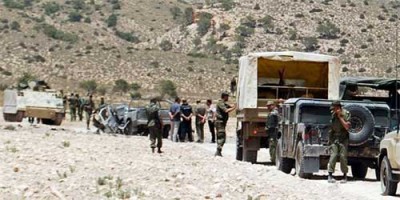 There were significant military movements and reinforcements following suspicions of the infiltration of a terrorist group into the Algerian territory today. Activity focused on The border between Tunisia and Algeria, and in particular the governorates of El-Tarf, Souk Ahras, Tébessa and the El-Oued.
According to the Algerian news website, El-Bilad, some members of the Algerian army are currently hunting down elements, whom they believe to have infiltrated from Kef Governorate after the air force has detected suspicious movements.
The military units also reinforced their presence in the area in search of hideouts used by arms and drug traffickers and terrorists for the sake of laying-low, hiding cars and weapons, and distracting surveillance planes, the source said.
The source stressed that the military authorities are concerned about the ongoing presence of terrorists on the borders with Tunisia and are afraid of potential attacks on Algerian targets. The source also stated that large Algerian military units are engaged in inspecting and sweeping the dense mountain range in Tébessa, Souk Ahras and El-Tarf. These places are difficult terrains, and traffickers can hide themselves and their cars too. Military authorities are sweeping semi-desert areas in El-Oued Governorate, which is known for being the main infiltration point for terrorist groups in the eastern region.