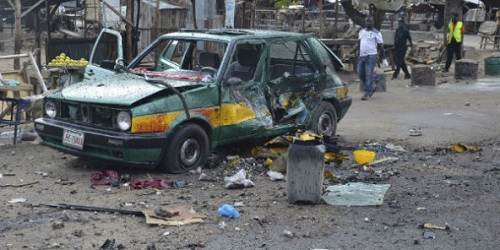 The death toll from a string of car bombings near a popular hotel in the Somali capital Mogadishu has jumped to at least 41, police said on Saturday.
Friday's attack was the latest in a wave of bombings by al-Shabaab, an Al-Qaeda affiliate which has been fighting to overthrow the internationally-backed Somali government for over a decade.
Twin car bombs exploded within moments of each other, followed by gunfire and a third blast, sending thick plumes of black smoke into the sky.
The blasts occurred near the Sahafi hotel and Criminal Investigation Division (CID) police headquarters.
Parliament speaker Mohamed Mursal said the attackers deliberately targeted civilians.
"These terrorists have massacred civilians at a time when people were out to spend time during the weekend. I call on the Somali people to stand together against those killers," he told reporters.
'Chaos after the blast'
Police official Ibrahim Mohamed said information received from various hospitals indicated that the number of dead had reached 41, with another 106 wounded.
"Most of these people were civilians and nearly 20 of them died in minibuses that were passing by the road when the blast occurred," he added.
Another security official, Abdirahman Osman, told AFP that nearly 50 had been confirmed dead so far, although the final number was not yet known.
Officials on Friday had put the death toll at about 20.
"There was chaos after the blast. Some of the vehicles were buses, which caught fire. I could see people screaming as they fled the buses," witness Fadumo Ali told AFP on Friday.
According to sources in Somalia, the fatalities included the son of the owner of the hotel, Abdirashid Ilqeyte, who was killed in a Shabaab attack on the establishment in November 2015.