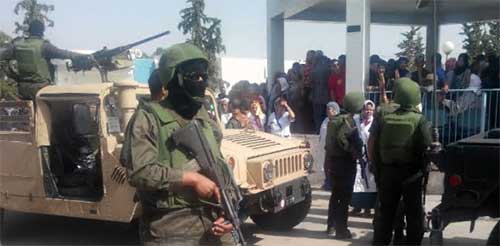 The European Union and Algeria on Monday vowed to reinforce mutual dialogue to maintain regional and international peace and security.
The remarks came during the 2nd High-Level Dialogue on Regional Security and Counterterrorism wich was held in Algiers.
The dialogue was co-chaired by Algerian Foreign Minister Abdelkader Messahel and EU's High Representative for Foreign Affairs and Security Policy Federica Mogherini.
During the meeting, Messahel reiterated Algeria's point of view in terms of solving conflicts and crisis hitting several countries in the region, including Libya and Mali.
"This dialogue is based on values that are likely to contribute to promoting good neighborhood, equality of interests, non-interference in the affairs of states as well as setting dialogue and peaceful options for the resolution of crisis and conflicts," said Messahel.
He further urged the EU to back-up Algeria's efforts to maintain peace and stability in the region.
"We expect this dialogue to pave way for better mutual understanding and correct analysis of our respective preoccupations as well as further coordination of efforts and actions for the sake of peace, security and stability both regionally and globally," according to Messahel.
For Mogherini, the European bloc and the North African nation face common challenges as they are required to work together to face them.
She noted that "challenges emerging in our mutual neighborhood make Algeria and the EU privileged partners on security issues."
Mogherini also hailed "the key role played by Algeria in terms of reaching peaceful solutions for regional conflicts and crisis."
Mogherini was referring to diplomatic efforts of Algeria to restore peace in neighboring Libya and Mali.