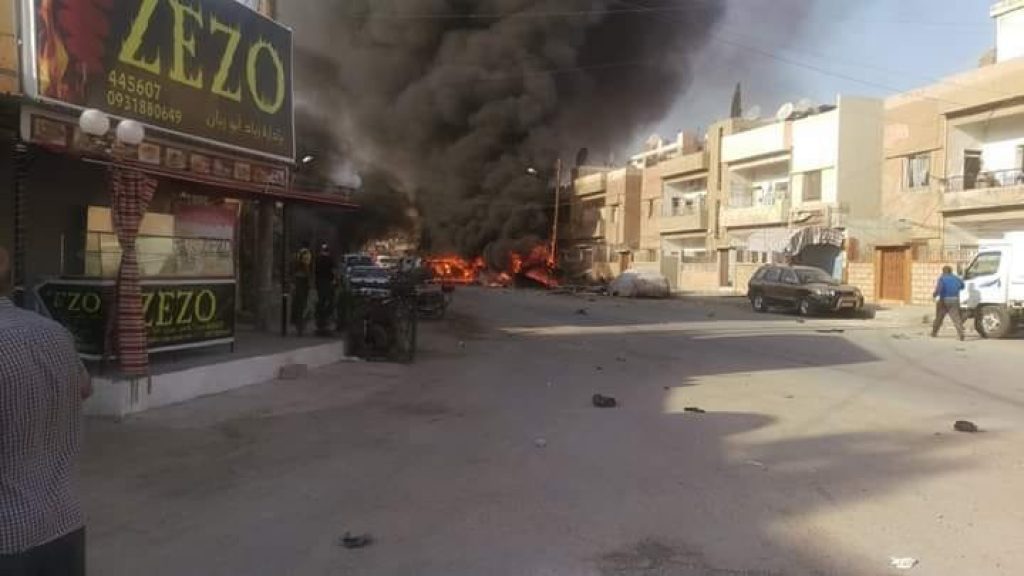 As Turkey continues its offensive into territory controlled by the Kurdish-dominated Syrian Democratic Forces (SDF), the Islamic State has exploited the chaos to strike in the heart of the Kurdish-held areas of northern Syria.
Earlier today, a car bomb was detonated on a busy street of Qamishli, which sits on the Turkish border in the extreme far northeastern reaches of Syria. The city is considered the capital of the de-facto autonomous area of northern Syria led by the Kurds.
According to the Kurdish internal security forces, the Asayish, at least three people were killed and nine others wounded in the blast. Videos confirming the levels of destruction have been released online by the SDF and others.
The Islamic State quickly took credit for the bombing, adding that "soldiers of the caliphate targeted a grouping of the PKK [referring to the Kurdish People's Protection Units, or YPG] near the intelligence headquarters in Qamishli."
While over the past two days, the Islamic State has also claimed several attacks on SDF positions elsewhere. In Syria's eastern region of Dayr al Zour, it claimed responsibility for multiple attacks on SDF positions in the villages of Theban, Sheheel, Daranj, and Al Busayrah, which all sit close to the city of Al Mayadin.
The group also stated it was responsible for killing several Kurdish soldiers in the village of Al Karamah, southeast of Raqqa city, and in the village of Al Mansourah to the southwest.
These are not the first Islamic State attacks in SDF-held territory this week. On Tuesday night, the Islamic State's men also launched attacks inside Raqqa and near the town of Tabqa.
Today's car bombing in Qamishli came as Turkish forces began shelling the city. Several civilians, including one child, were killed by the bombs. Civilians in other areas of northern Syria have also been reported killed by Turkish forces in recent days.
Both Turkey and the SDF have claimed their forces have inflicted mass amounts of casualties to the other side, while civilian deaths have been reported on both sides of the border.
Turkish media has stated that Kurdish-fired rockets have wounded dozens of people in a village near the border. It is possible that as the Turkish advance continues inside Syrian Kurdish-held territory, Kurdish militants inside Turkey could retaliate and broaden the conflict in response.
Additionally, as the SDF turns its attention to combating Turkey and its allied Syrian rebel factions, it is likely that the Islamic State will further exploit the diverted attention to regroup and conduct more attacks inside northern Syria.
This threat is also magnified in the possibility of prison breaks in the various locations across northern Syria. Already today, Islamic State escapees have been reported in one such prison.
And purported unrest in the Al Hawl camp adds to the already mounting security concerns in the area.