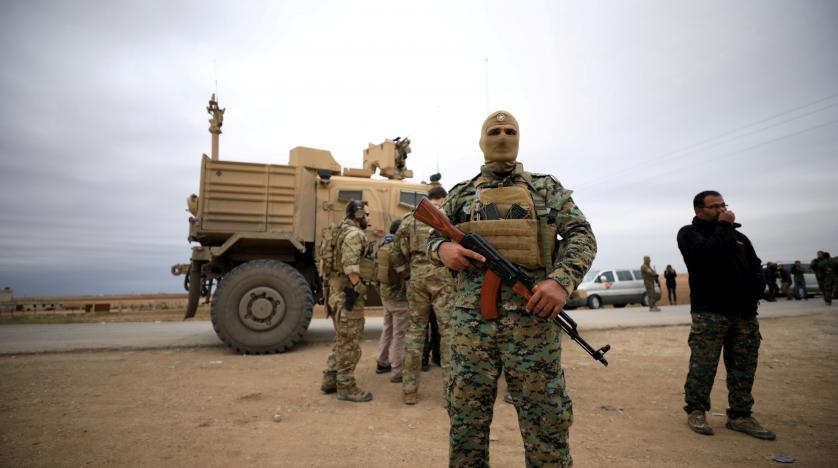 The Syrian Democratic Forces (SDF) announced that about 12,000 suspected ISIS militants are being held in seven prisons in northeastern Syria.
Apart from Syrians, the number of imprisoned Iraqis is estimated at 4,000, and there are about 2,000 fighters from 50 different countries, including about 800 from Western and European origins, with about 1,200 from Arab, Middle Eastern, and North African countries.
The SDF fears that if the rest of the areas under its control are attacked by Turkey, extremists in detention centers might flee.
The United States and Turkey agreed to reduce security concerns about the fate of thousands of ISIS prisoners held in SDF prisons. Extremists' families are in displacement and asylum camps in northeastern Syria, most notably al-Hol camp which houses thousands of ISIS families.
Over the past two days, several riots and incidents erupted after Turkey launched a large-scale attack on areas east of the Euphrates and declared a fragile truce.
In an interview with the Kurdish channel Ronahi earlier this week, commander of SDF, Mazloum Abdi, announced that so far, the US has not ended their alliance against ISIS, adding that the issue of extremists concerns the entire world.
Abdi explained that SDF decides the fate of ISIS prisoners and not Turkey nor the Syrian regime, especially after Syrian forces had entered a number of cities and towns east of the Euphrates.
He asserted that no country will be in charge of the prisoners' file after the US withdrew part of its troops.
"We are the ones who arrested them, and they are with us. We will decide [their fate]."
The United States and the Kurdish autonomous-administration have repeatedly called on the concerned countries to take back their citizens and prosecute them on their territories, as the issue poses a security, administrative, and financial burden on the region.
Abdi indicated that if the countries are interested in the fate of ISIS members originating from their country and consider them a threat, they should communicate with the SDF to reach an agreement.
"We are ready to assist anyone who wants to cooperate with us, but we refuse to discuss the fate of those [ISIS fighters] of the countries that refuse to cooperate with us."
In April, 18 children were returned to France, 16 fighters and children were returned to the United States, and 8 children were sent back to Australia. Also, 10 persons, including 6 orphans, were returned to Germany, 7 to Sweden, and 5 to Norway.
Countries say these children are orphans, and their parents are likely to have been killed in coalition airstrikes.