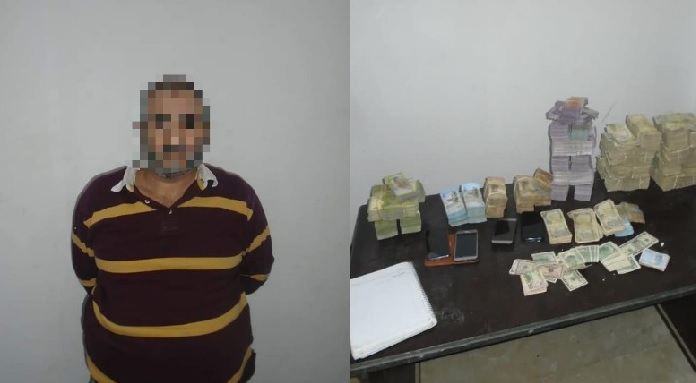 The Kurdish-backed Anti-Terror Forces (HAT) in northeastern Syria arrested a senior Islamic State financial chief in Raqqa on Wednesday who was allegedly responsible for organizing sleeper cells in the city.
The Kurdish-backed forces said in a statement that the suspect, Ahmed Muhammad Al-Ali, was "a financial official of the ISIS terrorist organization in the Raqqa region."
Al-Ali was arrested following information the forces gathered about the activities of Islamic State sleeper cell whereabouts in the region, the statement added.
It also noted that "sums of money in various currencies," and three mobile phones the terrorist used "to coordinate with sleeper cells" were seized.
According to the internal security forces, they have recently "tightened security measures to pursue ISIS sleeper cells after the city of Raqqa was subjected to a number of terrorist acts."
In a separate incident on Tuesday, the Raqqa Military Council published a video of a raid against suspected Islamic State sleeper cells in the Tal Al-Bay'ah village in the eastern countryside of Raqqa province.
Four suspects, accused of using "military force" in the city, were arrested in the raid, the UK-based war monitor Syrian Observatory for Human Rights (SOHR) reported.
Despite the Syrian Democratic Forces (SDF) and the US-led coalition announcing the defeat of the extremist group's so-called caliphate on March 23, 2019, Islamic State sleeper cell attacks continue in areas that were liberated from the militants.
Raqqa was liberated from the Islamic State in October 2017 by the SDF with support from the US-led coalition.
"ISIS has a presence in the form of sleeper cells, but they do not hold any position on the frontlines where our forces are positioned," Farhan Al-Askar (Abu Wael), a Raqqa Military Council commander, told Kurdistan 24 in December 2019.
Nevertheless, monthly data by the Syria-based Rojava Information Centre (RIC) shows that the majority of Islamic State attacks are carried out in the Deir al-Zor region, not in Raqqa.
According to the last RIC report published on April 7, 73 percent of Islamic State attacks in March took place in Deir al-Zor, while 16 percent were carried out in Hasakah, and only 10 percent in the Raqqa and Tabqa region.
The number of attacks is still limited although security forces in Raqqa now lack support from the US-led coalition after its troops left areas near Raqqa and Kobani when Turkey launched a military operation in October 2019 that pushed the SDF from the towns of Tal Abyad and Ras al-Ain (Serekaniye).
There are still coalition troops in the governorates of Deir al-Zor and Hasakah that support SDF operations against Islamic State sleeper cells.
Myles B. Caggins III, Spokesman for the US-led coalition, formally known as Combined Joint Task Force-Operation Resolve (CJTF-OIR), told Kurdistan 24 on April 14 that the US continues to support the SDF in the fight against the Islamic State.
"The Coalition continues to support the SDF for anti-ISIS operations by sharing intelligence and providing eyes-in-the-sky, while we all face the challenge of preventing the spread of COVID-19."