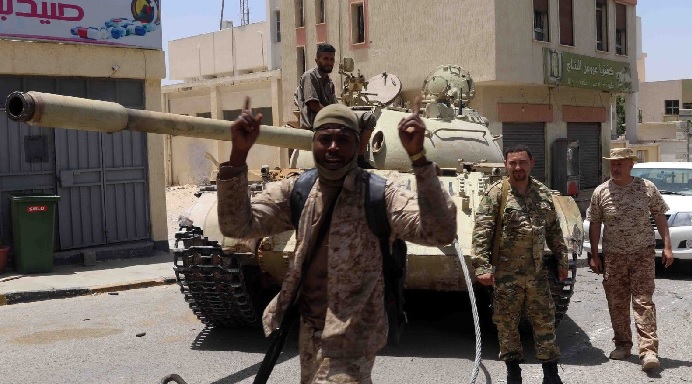 An improvised bomb found last week strapped to a teddy bear in the Libyan capital featured a mortar shell produced last year in Serbia. Despite an arms embargo, Serbian weapons are still finding their way to the North African country.
When supporters of Libya's United Nations-recognised government took to the streets of Tripoli last week to celebrate the retreat of a renegade general, alongside the Libyan flags they carried was a large white teddy bear with a pink nose.
A heart stitched to its paws, the bear had been found several hours earlier in a house in Ain Zara on the southern outskirts of the capital as government forces retook the south of the city from retreating rebels led by military commander Khalifa Haftar, breaking a siege that had lasted 14 months.
The bear had been wedged beneath a table, presumably be retreating forces, with a mortar shell and artillery fuse strapped to its back using adhesive tape.
This was no ordinary war trophy, however. Eyewitness accounts and analysis of photographs and serial numbers show it is evidence that Serbia continues to flout a UN embargo on arms exports to Libya.
BIRN can confirm that the 120-millimetre HE M62P10 shell, bearing the number 01/2019, was produced last year by one of Serbia's biggest arms manufacturers – state-owned Krusik. Krusik did not reply to BIRN questions regarding the sale of lot 01/2019, including where the weapons were destined.
Saudi Arabia and the United Arab Emirates are among the biggest buyers of Serbian-made arms. They are also backers of Haftar.
The UAE was identified in a UN expert report late last year as one of the chief violators of the almost decade-old embargo on arms exports to Libya.
As a State Party to the UN's Arms Trade Treaty, Serbia has an obligation to refuse to sell weapons to another country – for example, the UAE – if it believes that the ultimate recipient of those weapons is not the 'end-user' specified by the buyer.
That rule has been flouted for years to funnel arms to myriad factions fighting in Syria, Libya and Yemen. And Serbia, seeking to rebuild a once highly lucrative arms export industry, has been heavily involved.
Serbia's trade ministry, which is responsible for arms exports, did not respond to a request for comment.
Civilians deliberately targeted
In late May, the UN expressed concern at reports that residents of Ain Zara and Salahuddin in Tripoli had been killed or wounded by improvised explosive devices placed in or near their homes, calling it a "grotesque transformation and deterioration of the conflict" that demonstrated the deliberate targeting of civilians.
International humanitarian law outlaws the use of booby-traps rigged in ways that might attract civilians.
On June 5, Amnesty International warned that war crimes and other violations may have been committed between April 13 and June 1 during the surge in fighting near Tripoli, including looting, indiscriminate attacks, and the planting of anti-personnel landmines in civilian buildings.
BIRN has reviewed videos from southern Tripoli showing civilians who died from injuries inflicted by improvised devices but could not verify the origin of the bombs used.
In the case of the booby-trapped bear, three independent sources, including military experts, have told BIRN that the way the device was rigged – using a Russian MUV-4 fuse, plastic explosives and a mortar shell – bore the hallmarks of the Russian private military contractor Wagner Group.
Wagner has up to 1,200 people deployed in Libya, according to a confidential UN report by independent sanctions monitors cited last month by Reuters.
Russia denies having any control over Wagner. Most of its contractors are Russian nationals but it also draws on citizens of Belarus, Ukraine, Serbia and Moldova.
BIRN has reported previously about the role of Serb nationals fighting on behalf of Wagner in Syria and Ukraine. Russia has been Syrian President Bashar al-Assad's biggest military backer in nine years of war and has supported a separatist rebellion in eastern Ukraine with arms, men and money since 2014.
Private Arms Company Main Buyer of Mortar Shells
On June 26, 2018, Krusik signed a deal to sell 50,000 mortar shells – including the 120 mm HE M62P10 – to a private arms intermediary called GIM, according to a copy of the contract obtained by BIRN. The 'end-user' of this shipment was the government of Saudi Arabia. BIRN has reported previously about GIM's links with Branko Stefanovic, the father of Serbian Interior Minister Nebojsa Stefanovic. According to the terms, delivery was supposed to start three months from the signing of the contract. BIRN was unable to verify whether the shell found strapped to the teddy bear was from the lot bought by GIM.
Serbia-Libya relations mired in controversy
Serbian-made arms are not new to Libya; former dictator Mohammed Gaddafi was a major buyer of weapons from then federal Yugoslavia.
Gaddafi was killed in 2011 after a popular uprising escalated into war. Several years later, the country found itself split between areas controlled by the UN-recognised government in Tripoli and the northwest, and territory held by Haftar's forces in the east based in Benghazi.
The arms trade between Serbia and Libya survived Gaddafi's fall.
Serbia told the UN sanctions committee on Libya that it had suspended deliveries of weapons to Libya in June 2014 as fighting escalated and returned a UN-issued licence it had to export arms to the country.
Those deliveries had been brokered by Serbian arms dealer Slobodan Tesic, who signed deals with Libya in 2013 worth $150 million, including $100 million-worth of weapons from Serbia as well as ammunition from Belarus, according to a document obtained by BIRN.
It is unclear how much was actually delivered and Tesic officially halted exports to Libya in 2014. He was subsequently blacklisted by the United States.
Libya returned to the headlines in Serbia in 2016 when two employees of the Serbian embassy in Tripoli died in US air strike on an Islamic State camp, where they had been held.
The reason why the embassy employees were abducted in the first place has never been officially established. At the time, Serbian Prime Minister Aleksandar Vucic, who is now president, linked the abductions to the arms trade. A year later, in May 2017, Serbia's ambassador to Libya died in a car crash, reportedly as he was trying to evade abduction.