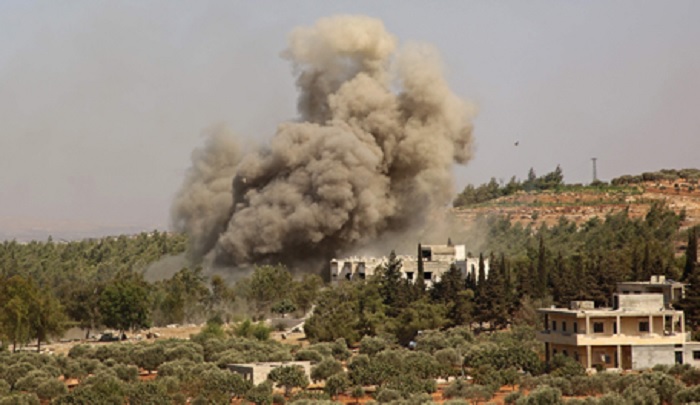 Taking advantage of Erdogan's troubles with Europe, Moscow appears to be moving in Syria to break its alignment of convenience with Ankara, writes Sayed Abdel-Meguid
"Mr Macron, you're going to have problems with me personally," warned Turkish President Recep Tayyip Erdogan two weeks ago after the French president advised European leaders to be "clear and firm, not with Turkey as a nation and people, but with the government of President Erdogan, which has taken unacceptable actions."
Echoing his boss's defiant mode, Turkish Defence Minister Hulusi Akar quipped that Macron was "trying to take on the role of Napoleon, who died 200 years ago. But we can all see that he is neither powerful enough nor tall enough to do it."
As the EU meeting on the situation in the Eastern Mediterranean approached, together with looming sanctions, Erdogan has had to soften his tone. Last week he even called up Emmanuel Macron to plead with him for permission to let Turkey take part in the production of the French-Italian SAMP/T missile defence system. According to a report by Bloomberg on 25 September, Macron responded that Erdogan would have to clarify Turkish objectives in Syria before Paris would consider his request.
The mere mention of Syria was a stinging rebuff. Turkey has occupied and effectively annexed big chunks of northern Syria, the first target of Erdogan's neo-Ottoman expansionist ambitions. However, his influence and control there has been steadily dwindling while his "mortal enemy" in Damascus, Bashar Al-Assad, has been gradually regaining ground thanks to support from Russia.
Russia, too, has been increasingly vocal in its criticism of Turkish behaviour in northern Syria and recent developments have led some observers to predict that Putin and Erdogan may soon part ways in Idlib. Judging by news reports and developments on the ground, the agreement they signed in March, and the understandings they reached in Astana before that, over the creation of a demilitarised zone and the removal of terrorist groups from Idlib, are very shaky. Hardly a day goes by without some violation of the truce on the part of Al-Assad's forces, which could not occur without a green light from Moscow. Al-Assad's advances weaken Ankara not just strategically but also, and more importantly, in the eyes of the militant groups it backs.
Moscow, for its part, appears determined to expand its presence in Idlib city, strategically located just north of the M4 international highway and to the west of the even more vital M5 which runs north to south between Damascus and Aleppo. This has been one of the main bones of contention recently between Russia and Turkey. Erdogan refuses to believe Moscow's claim that the security patrols are under threat. Instead, he believes that Russia is in a hurry to reopen that vital overland artery in order to offset the impacts of US sanctions against Damascus and stimulate the Syrian economy. Russia is also keen to prepare the climate for the elections that Al-Assad's regime has envisioned for 2021 — a vision that the Turkish regime rejects out of hand.
Russia has been pressuring Turkish and Turkish-backed forces to withdraw to a depth of 35 kilometres south of the M4, claiming that Turkey has failed to meet its commitments under the Sochi Agreement to clear terrorist groups out of the area. Turkey counters that is Russia that is not living up to its end of the bargain which involves expanding the area in Idlib under control of a joint Russian-Turkish peacekeeping force. Moscow is "dragging its feet" and "reneging on its word as usual", complain pro-government mouthpieces in Turkey.
But not only are developments in Idlib working against Erdogan's designs in Syria, the same applies to the situation to the north from Tel Rafat and Manbij to the region east of the Euphrates. The Turks complain that Russia has failed to meet its commitment to hand over control of Tel Rafat, Manbij and other designated towns to the control of Turkish-backed forces.
Some Turkish analysts believe that Moscow is taking advantage of Turkey's predicament in the Eastern Mediterranean, the EU's mounting anger over Ankara's aggressive policies in the region and the fact that the situation in Libya has taken a turn contrary to Erdogan's plans. Conditions were ripe for pushing the Turks and the Turkish-backed opposition in Syria into a corner in Idlib. But what the Turks had not anticipated was that Putin would reach some accommodations with the US, on the one hand, and with the Syrian Democratic Forces (SDF) on the other, heedless of Turkey's oft-repeated concerns regarding the latter, which it regards as an extension of the Kurdistan Workers' Party (PKK).
On 15-16 September, Russian and Turkish interagency delegations met in Ankara for technical consultations on the situations in Idlib and Libya. According to Western diplomatic sources, on the second day of that meeting Moscow intensified pressure on Ankara to reduce its military presence in Idlib. Ankara had recently intensified that presence to an estimated 10,000 Turkish troops stationed in dozens of bases in Idlib. As follow-through, on Sunday, 20 September, Russian fighter jets bombarded portions of northwest Syria controlled by Turkish-backed Syrian militias. It was the most intense wave of Russian strikes in the vicinity of Turkish observation points in Idlib since the Russian-Turkish agreement to cease major combat activities six months ago. The Syrian army has also launched intermittent strikes against Turkish bases in Idlib, while Damascus and the militias allied with it have continued to amass troops along the fronts.
In light of the foregoing, it comes as little surprise that a recent report by the Institute for the Study of War (ISW) concluded that, in that meeting with Russia on 16 September, Turkey may have agreed to cede control of territory in southern Idlib to pro-Assad forces and, if so, then a pro-Assad offensive in southern Idlib is probably immanent. The report described a pattern of recent events that substantiate the likelihood of a partial Turkish withdrawal from Idlib. It cited, for example, the withdrawal of hundreds of Turkish special forces and infantry and Turkish-backed opposition fighters from southern Idlib towns in the Jabal Zawiya area on 8 September and the reduction in the frequency of Turkish military logistics convoys into Idlib from one every one or two days to only three conveys in the 13 days prior to the publication of that report.
The report also noted several pro-Assad protests staged outside several Turkish observation points on 16 September, which it described as a tactic the Syrian regime uses to emphasise the unpopularity of the Turkish presence in Idlib as a means to ratchet up the pressure on Ankara. It added that although Turkish Foreign Minister Mevlut Cavusoglu denied on 16 September that negotiations with Russia were productive, "Cavusoglu may be trying to temporarily conceal the details of an agreement with Russia in order to preserve Turkey's reputation among greater Idlib's population and avoid backlash from opposition groups."