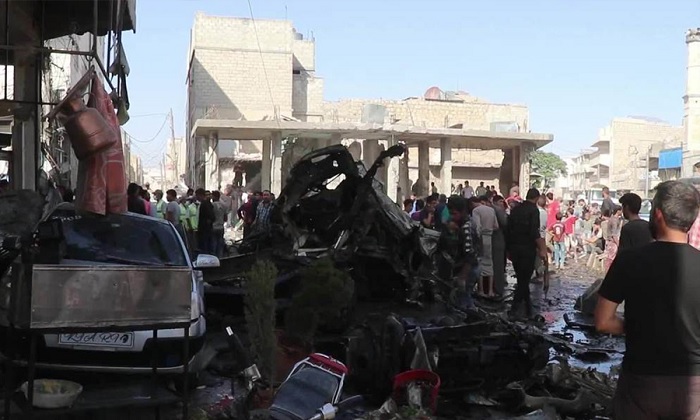 At least 18 people have been killed in a truck bomb explosion in the Turkish-controlled town of Al-Bab in northwest Syria, a war monitor, activists and medics said.
The explosion on Tuesday near a bus station also wounded at least 75 people, some of them seriously, the United Kingdom-based Syrian Observatory for Human Rights said.
Ibrahim al-Haj, a spokesman for the Syrian Civil Defence, a search-and-rescue group that operates in rebel-held parts of Syria also known as the White Helmets, said 82 people were wounded as a result of the blast.
Videos and images circulated by activists on social media showed large plumes of smoke rising from the blast site, along with several fires and damaged buildings.
There was no immediate claim of responsibility for the car bombing, but there has been a string of attacks in Al-Bab since its capture by Turkish troops from the ISIS group in 2017.
"We condemn in the strongest terms these ongoing indiscriminate attacks on civilians," senior UN humanitarian official Mark Cutts wrote on Twitter after the latest bombing.
The town, 40 kilometres (25 miles) northeast of Syria's second city Aleppo.