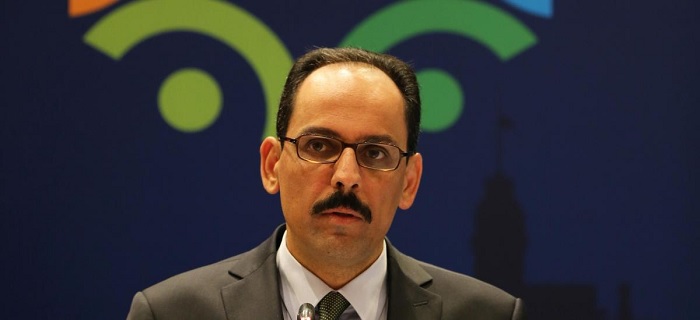 Turkish Presidential Spokesman Ibrahim Kalın said on Wednesday that Turkey was ready for a rapprochement with Egypt after seven years of strained relations, the state-run Anadolu news agency reported. Egypt
"If Egypt reveals a willingness to act with a positive agenda on regional issues, Turkey would not leave it unanswered," Kalın said.
Turkey's close ties with the Islamist Muslim Brotherhood and its ousting from government in Egypt in a military coup have become a source of crisis in relations between Turkey and Egypt. Ankara cut off diplomatic ties with Cairo following the coup that overthrew Egyptian President Mohammed Morsi and replaced him with Egyptian President Abdel Fattah el-Sisi in 2013.
Worsening ties between the two countries have spilled over into Libya, where they back opposing sides in a military conflict, and over hydrocarbon resources in the eastern Mediterranean. Egypt has teamed up with countries including Israel, Cyprus and Greece to extract natural gas and export it to world markets, leaving Turkey out of the arrangement.
Kalin spoke as the Egyptian authorities reportedly gave instructions to various public and private media outlets to water down criticism of Turkey and Turkish President Recep Tayyip Erdoğan.
Egypt's new approach towards Turkey on the media came after the two countries were nearing an understanding on the Libyan conflict, Middle East Monitor said, citing an anonymous source in the Egyptian press.
Turkey has stepped up its backing for Libya's internationally recognised Government of National Accord (GNA) in fighting with forces loyal to opposition General Khalifa Haftar after signing two memorandums of understanding in November. One accord governed military cooperation, which allowed Turkey to deploy troops in the war-torn country, while the other delineated maritime boundaries in the eastern Mediterranean.
Egypt, Greece and Cyprus agreed in 2014 to cooperate in oil and gas exploration in the eastern Mediterranean. In 2016, a similar deal was reached between Israel, Greece and Cyprus.
Following the Turkish-Libyan agreement, Egypt and Greece also signed an accord for the delimitation of the two countries' maritime boundaries in the eastern Mediterranean. Turkey has declared the deal "null and void".