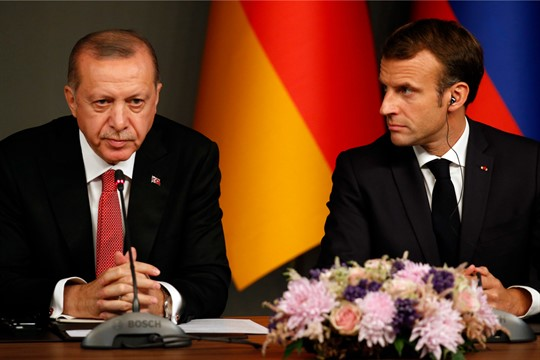 French President Emmanuel Macron has clearly decided to up the ante in a standoff with Turkey in the Eastern Mediterranean, where France is backing Greece and Cyprus in their dispute with Ankara over natural gas reserves and maritime boundaries.
First, Macron ordered a temporary reinforcement of French aerial and naval assets to the Eastern Mediterranean in mid-August, in response to Turkish ships resuming controversial gas exploration activities south of Cyprus. Then, he went as far as to frame his actions as a "red line policy" in order to show President Recep Tayyip Erdogan that he meant business.
Although France's military escalation in the Eastern Mediterranean was largely symbolic, since it only committed two additional Rafale fighter jets and one naval vessel, it still raises the risks of a direct military clash between two NATO members. The French and Turkish navies, after all, nearly came to blows in June after a French ship under NATO command, which was enforcing a U.N.-imposed arms embargo on Libya, attempted to inspect a Tanzanian-flagged vessel that was being escorted by three Turkish warships off the Libyan coast.