IRGC Commander:Islamic Revolution Cause of Enemies' Hostility towards Iran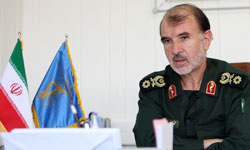 TEHRAN (FNA)- The Commander of Iran's Islamic Revolution Guard Corps (IRGC) Ground Force said enemies are using Iran's peaceful nuclear activities as a pretext to wage a war on Iran, reiterating that the Islamic Revolution is the root cause of enemies' hostility towards Iran.
"We have managed to prevent enemies from sparking war in Iran for several times after the 8-year Iraqi-imposed war," Brigadier General Mohammad Jafar Asadi said, adding, "But the global Arrogance's problem is not Iran's nuclear technology but its Islamic Revolution."
The global Arrogance can not tolerate Iran's Islamic Revolution because if the Islamic voice is heard in the whole world it will be at risk and will be unable to do anything, he stressed.
"All of the West's efforts only aim at coercing us to accept what they say," the Iranian students news agency quoted the IRGC ground force commander as saying
"One day Germany, Britain and France step in Iran and start talks on suspension of nuclear enrichment but their real purpose is impeding Iran's progress," Asadi said.
He also noted Iran has managed to make progress only by using its domestic not foreign potentials and no body could damage the country.
The US and some European powers have accused Iran of pursuing a military nuclear program, but Iran denies the allegation and insists its nuclear work is only targeting civilian purposes including power generation.
A US attack on the Syrian village of Sukkariyah on October 26, has raised speculation about the likelihood of a US unilateral strike on the Islamic Republic.
Speculation that Israel could also bomb Iran mounted after a big Israeli air drill in June. In the first week of June, 100 Israeli F-16 and F-15 fighters reportedly took part in an exercise over the eastern Mediterranean and Greece, which was interpreted as a dress rehearsal for a possible attack on Iran's nuclear installations.
Iran has, in return, warned that it would target Israel and its worldwide interests in case it comes under attack by the Tel Aviv.
The United States has also always stressed that military action is a main option for the White House to deter Iran's progress in the field of nuclear technology.
Iran has warned that in case of an attack by either the US or Israel, it will target 32 American bases in the Middle East and close the strategic Strait of Hormoz.
An estimated 40 percent of the world's oil supply passes through the waterway.
In a Sep. 11 report, the Washington Institute for the Near East Policy says that in the two decades since the Iran-Iraq War, the Islamic Republic has excelled in naval capabilities and is able to wage unique asymmetric warfare against larger naval forces.
According to the report, the Islamic Revolutionary Guards Corps Navy (IRGCN) has been transformed into a highly motivated, well-equipped, and well-financed force and is effectively in control of the world's oil lifeline, the Strait of Hormuz.
The study says that if Washington takes military action against the Islamic Republic, the scale of Iran's response would likely be proportional to the scale of the damage inflicted on Iranian assets.
Meantime, a recent study by the Institute for Science and International Security (ISIS), a prestigious American think tank, has found that a military strike on Iran's nuclear facilities "is unlikely" to delay the country's program.
You can follow any responses to this entry through the
RSS 2.0
feed.
Responses are currently closed, but you can
trackback
from your own site.
//php comments_template(); ?>