Pakistan Underlines Iran, China Role in War on Terror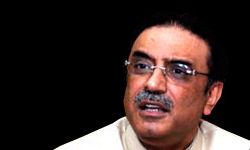 TEHRAN (FNA)- Pakistan's President Asif Ali Zardari urged the international community to play its role in ending brutal attacks against unarmed and innocent Palestinians in Gaza and said that Israeli attacks violated the UN Charter.
Speaking in a meeting with Iranian Oil Minister and Special Envoy Gholam Hossein Nozari, who delivered a letter from President Mahmoud Ahmadinejad to his Pakistani counterpart, Zardari informed him about Pakistan's efforts to root out terrorism.
He stressed the need for adopting a regional approach on the issue and called for involving Iran and China in counter-terrorism efforts.
Expressing concern over Israeli attacks, the president said that Pakistan called for a peaceful, just and durable settlement of the Palestinian issue in accordance with United Nations Security Council resolutions.
The Iranian president's envoy said the recent attacks and blockade of Gaza by Israeli forces had posed a new threat to peace and stability in the region that called for a concerted action by Muslim countries.
He said that Palestinians, particularly those in Gaza, were facing hardships because of the blockade and "international community must act to alleviate their sufferings".
Highlighting close relations between Iran and Pakistan, the special envoy said Iran was keen to go ahead with the gas pipeline project to strengthen economic cooperation between the two countries.
Nozari renewed President Ahmadinejad's invitation to President Zardari to visit Iran.
The president said that he was looking forward to visiting Iran soon. He conveyed his best wishes to the Iranian president.
The special envoy also called on Prime Minister Yousuf Raza Gilani.
Gilani expressed concern over Israeli atrocities against Palestinians in Gaza despite international calls for restraint and said Pakistan condemned Israeli aggression.
Talking to the Iranian envoy, the prime minister said Pakistan supported the establishment of an independent Palestinian state with Al Quds as its capital.
He said the world needed to act resolutely to stop Israel's aggression.
The prime minister expressed the hope that OIC's executive committee, which met in Jeddah on Saturday, would come up with constructive suggestions in line with the sentiments of the Muslim world.
You can follow any responses to this entry through the
RSS 2.0
feed.
Responses are currently closed, but you can
trackback
from your own site.
//php comments_template(); ?>