Albanian NGOs Seek to Scrap Power Plant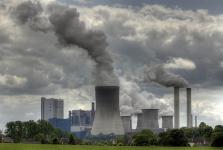 Albanian environmental NGOs contested on Thursday the environmental impact study by Italian company Enel of its Porto Romano coal-fired thermal power plant, demanding that the government should either revise or cancel the project.
The Ekolevizja movement, a front organisation comprising several Albanian environmental NGOs, accused the Italian energy giant of ignoring Albanian laws in its environmental impact study of the plant, of misrepresenting the nation's energy strategy and providing misleading information on the application of technologies for carbon capture emissions.  
"Because the evaluation of the environmental impact presented by Enel contains serious errors and misleading information, we have requested the Ministry of Environment to refuse the permits necessary for this project's construction," said Merita Mansaku, Albania regional co-ordinator for CEE Bankwatch Network.
According to Ekolevizja, Enel's environmental impact study does not give a clear evaluation of carbon emission by the plant during production.
Environmental groups estimate that, if the Albanian government proceeds with the project proposed by Enel, its carbon-fired thermal-power plants will increase carbon emissions in Albania by between 6 to 7 million tons every year, doubling current emission levels.
"Although Albania is a signatory to the Kyoto Protocol, it is not specified in any agreement that Albania has signed with the Italian energy giant who precisely should bear the burden of the environmental costs of Enel's plants," said Xhemal Mato, Ekolevizja's executive director.
When contacted by Balkan Insight, Enel's press office directed all questions to the company's International Business Development officer, Marco Arceli, but he was not available for comment. Follow-up emails to the company elicited no reply.
However, according to the Institute for Environmental Studies, Albania stands to lose around €250 – €300 million annually in carbon tax revenues from this project alone, while, according to the government, most of the electricity produced by Enel will be exported to Italy.
Although the Albanian government has been under pressure from Italy to approve the plant project, it has yet to take the decision to approve its construction.
In December, for example, Italian Premier Silvio Berlusconi visited Albania in a bid to seal Tirana's approval for the construction of the power plant. In the last few months Foreign Minister Franco Fratini and Minister of Economic Development Claudio Scajola have also visited Tirana to lobby for the plant.
Enel plans to install two 800 megawatt coal-fired thermal power plants in the Porto Romano area outside the port city of Durres. The company ultimately plans to extend the plant to a generating capacity of approximately 1,300 megawatts, which would supply electricity to both the Italian and Albanian markets.
However, environmental groups maintain that Albania does need such large power plants and that they are being built without clearly informing the public on their environmental impact.
"At one meeting that Enel held with local villagers to discuss environmental impact, they spoke in English", Mato told Balkan Insight. According to him, Albania will move from having 98 per cent of its power generation carbon emission-free, to roughly 40 per cent, if the plants are approved.
"The only reason Enel is coming to Albania is that they cannot pollute at home," he added.
Over the past two years, Albania has been hit by an acute energy crisis, with regular power cuts throughout the country, including the capital Tirana.
Almost all of Albania's domestically-produced electricity is generated by hydropower plants, which are badly affected by drought; but even when rain is plentiful, the obsolete distribution grid causes major problems.
International organisations monitoring the Albanian economy, including the International Monetary Fund and the World Bank, have expressed concern that the energy crisis could have an adverse effect on the country's robust economic growth, which has been averaging close to 6 per cent per annum since 2006.
Because of the energy crises, environmental groups are concerned the government is not doing enough to monitor possible polluters that seek to invest in the energy field.
"From what we understand most of the environmental studies presented by companies seeking to invest in Albania are publicised as according to standards, but that is not true," said Mansaku. "The Albanian environmental ministry should increase its transparency over these projects and their polluting impact on the environment."
You can follow any responses to this entry through the
RSS 2.0
feed.
Responses are currently closed, but you can
trackback
from your own site.
//php comments_template(); ?>