NATO chief: Turkey has not asked for substantial military help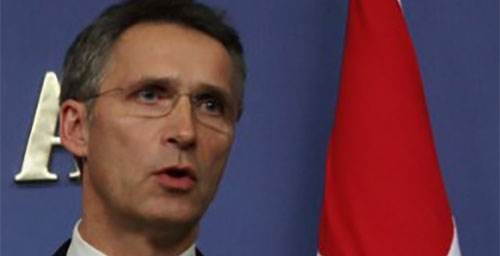 Turkey has not asked for substantial military help from NATO in its campaign against the Islamic State of Iraq and the Levant (ISIL) and Kurdish militants, the alliance's chief said on July 27, a day before it meets to discuss the fighting.
Jens Stoltenberg also warned Turkey that its bombing campaign could endanger the progress that has been made in recent years toward reaching a peace deal with Kurdish militants.
NATO ambassadors are due to meet on July 28 at Ankara's request to discuss the spike of violence between Turkey, ISIL jihadists and Kurdish militants.
"Turkey has a very strong army and very strong security forces. So there has been no request for any substantial NATO military support," Stoltenberg said in an interview with the BBC.
Turkey bombed ISIL positions in Syria for the first time last week, after a suicide bombing blamed on the jihadists killed 32 people on the border with the war-torn nation.
It has also bombed positions of the outlawed Kurdistan Workers' Party (PKK) in northern Iraq for the first time in four years, after the militants, who accuse Ankara of colluding with the Islamists, claimed the killing of two police officers.
While applauding Ankara for joining the fight against the ISIL, the NATO chief cautioned that "self-defence has to be proportionate".
You can follow any responses to this entry through the
RSS 2.0
feed.
Both comments and pings are currently closed.
//php comments_template(); ?>