Algeria: high alert on the border with Libya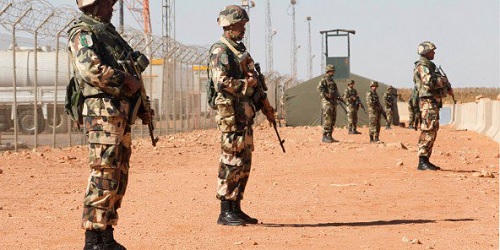 Algerian authorities increase the military presence on the border with Libya (980 km long) in order to prevent the infiltration of armed groups.
The three military regions of South Grand were placed on high alert. Leave and permissions soldiers concerned were suspended indefinitely, while significant human and material resources (shielded) are routed locally.
The gendarmerie has meanwhile installed hundreds of monitoring stations, supported by elite units, mobile guards and reconnaissance aircraft. Security has also been strengthened around the oil and gas facilities, as well as near the living foundation for In Amenas – which were the target of a terrorist attack in January 2013. Multinationals
working in the area multiply words of caution for their Algerian and foreign employees.
obvious sign of this tension at the border, the Algerian army announced Monday, February 22 arrest of eleven foreign nationals who were about to join Libya. In a statement issued by the Ministry of National Defence, the Army said a detachment under the operational sector Laghouat (4th Military Region) held the day before the arrest of these individuals whose nationalities have not specified.
You can follow any responses to this entry through the
RSS 2.0
feed.
Both comments and pings are currently closed.
//php comments_template(); ?>