Boko Haram raid kills at least 3 Nigerian soldiers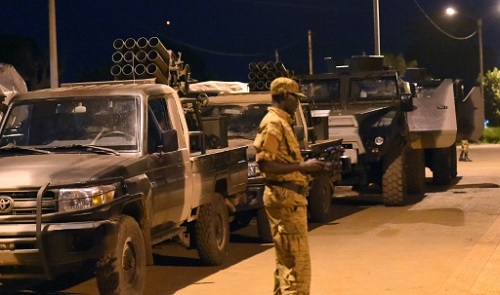 At least three Nigerian soldiers were killed when Boko Haram jihadists raided a military post near the country home of Nigeria's army chief in northern Borno state, military and civilian sources said Saturday.
The Islamist group however claimed to have killed five troops in the attack.
Armed jihadists from the Islamic State-supported Al-Barnawi faction of Boko Haram launched a midnight attack on Thursday on Nigerian troops in the village of Kamuya, around five kilometers from Buratai, the native home of army chief of staff General Tukur Yusuf Buratai, a military source said.
"The terrorists who rode on camels attacked our checkpoint at Kamuya, killing three soldiers after a gun battle," said the military source who asked not to be identified.
"The troops retreated to Buratai where they teamed up with another detachment and went after the terrorists in the bush," the military officer said.
Troops sealed the area, preventing villagers from leaving and making it difficult to get a detailed account of the incident.
Nigerian military officials declined to comment on the attack.
In a tweet from the ISIS-affiliated Amaq news agency, Boko Haram claimed it killed five soldiers from the regional coalition fighting the jihadists.
"Killing of five African coalition soldiers and 11 injured after attack by Islamic Caliphate forces… in Kamuya town," the tweet read in part.
You can follow any responses to this entry through the
RSS 2.0
feed.
Both comments and pings are currently closed.
//php comments_template(); ?>