NATO makes new multinational force in Romania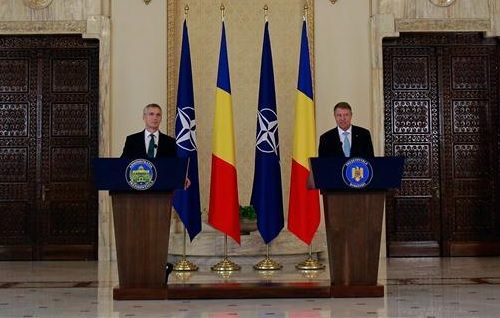 NATO launched a new multinational force in Romania on Monday to counter Russia along its eastern flank and to check a growing Russian presence in the Black Sea.
The force will initially be built around a Romanian brigade of up to 4,000 soldiers, supported by troops from nine other NATO countries, and complementing a separate deployment of 900 U.S. troops who are already in place. The plans are to include additional air and sea assets to give the force greater capabilities.
"Our purpose is peace, not war," Romanian President Klaus Iohannis told the NATO Parliamentary Assembly of alliance lawmakers, which is meeting this year in Bucharest.
"We are not a threat for Russia. But we need dialogue from a strong position of defense and discouragement," he said, before flying to the Craiova military base in south-eastern Romania.Secretary-General Yens Stoltenberg went on to say that members of the alliance are "concerned by Russia's military buildup close to our borders and its lack of transparency when it comes to military exercises such as Zapad 2017. This highlights the importance of our dual-track approach to Russia," he said.
"Here in Romania, our multinational framework brigade is now operational," Secretary-General Jens Stoltenberg said in Bucharest on Monday, thanking Romania for hosting the brigade.
"We are sending a very clear message: NATO is here, NATO is strong and NATO is united," Stoltenberg told assembled Polish, Romanian, Spanish and Portuguese soldiers.
You can follow any responses to this entry through the
RSS 2.0
feed.
Both comments and pings are currently closed.
//php comments_template(); ?>