UN to send 900 more peacekeepers to CAR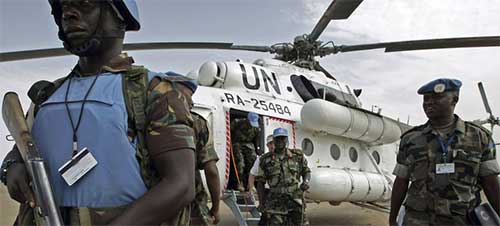 The UN Security Council unanimously approved a resolution Wednesday to send an additional 900 peacekeepers to a UN mission in the Central African Republic (CAR).
"The Council decided to increase the Mission's troop limit by 900 military personnel, resulting in an authorized troop ceiling of 11,650 military personnel, including 480 military observers and military staff officers, 2,080 police personnel and 108 corrections officers," the UN said in a statement.
It also approved an extension of the mandate of the United Nations Multidimensional Integrated Stabilization Mission in the Central African Republic (MINUSCA) until November 15, 2018.
The Security Council reiterated its "serious concern at the dire humanitarian situation in the CAR, the consequences of the deterioration of the security situation on humanitarian access, as well as the violence against humanitarian workers and emphasized in particular the current humanitarian needs of the more than 600,000 internally displaced persons and nearly 500,000 refugees in neighboring countries and further expressed concern at the consequences of the flow of refugees on the situation in Chad, Cameroon and the Democratic Republic of the Congo as well as other countries of the region."
You can follow any responses to this entry through the
RSS 2.0
feed.
Both comments and pings are currently closed.
//php comments_template(); ?>