Romania, Bulgaria, Greece FMs discuss regional cooperation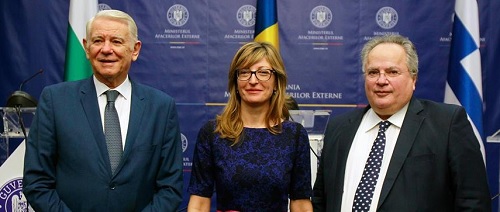 The meeting of foreign ministers of the Romania-Bulgaria-Greece trilateral cooperation format represented an opportunity to strengthen the European project, Romanian Foreign Minister Teodor Melescanu said on Monday.
"Our meeting was an opportunity to reconfirm the shared will of the three countries regarding the boosting of political dialogue in this trilateral format and assuming the commitment regarding the strengthening of the European project," Melescanu told a joint press conference with visiting Bulgarian and Greek counterparts Ekaterina Zaharieva and Nikos Kotzias respectively.
According to the head of the Romanian diplomacy, the three countries endorse a solid policy of the European Union in the Eastern Neighbourhood and grant wider support for the relationships between the EU and its six Eastern neighbors: Armenia, Azerbaijan, Belarus, Georgia, Moldova and Ukraine.
"Our strategic objective is maintaining the commitment towards our eastern partners, for ensuring in the Eastern Neighbourhood a stable, safe and prosperous space, attached to European principles," said Melescanu.
The Bulgarian foreign minister reiterated, in her turn, the importance of the accession to the Schengen area of Romania and Bulgaria. She stressed that the accession is "important for the security, not only for Bulgaria and Romania, but also for other EU member states."
The Greek minister voiced his support for Romania's and Bulgaria's integration in Schengen and said that "we will feel much safer and better in Europe if they will join us in the Schengen area."
You can follow any responses to this entry through the
RSS 2.0
feed.
Both comments and pings are currently closed.
//php comments_template(); ?>