US says it has proof Syrian government responsible for chemical attack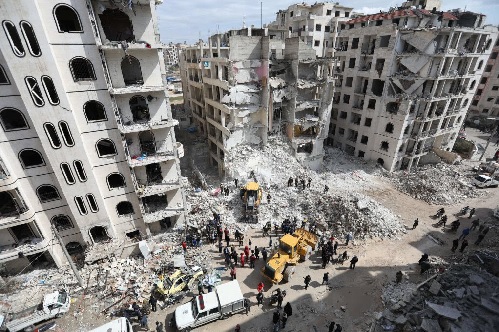 The United States has blamed the Syrian government for a deadly chemical weapons attack this month and slammed Russia for failing to stop its ally, President Bashar al-Assad, as Western allies considered military strikes on Syria.
While the prospect of US-led military action that could lead to a confrontation with Russia hung over the Middle East, the White House on Friday accused Syria of carrying out a toxic gas assault on April 7.
"We have a very high confidence that Syria was responsible and, once again, Russia's failure to stop them and their continued (lack of action) on this front has been part of the problem," White House spokeswoman Sarah Sanders said.
US intelligence shows a Russian claim that the attack was faked was false, Sanders said. "Our intelligence tells us otherwise. I can't go beyond that," Sanders told reporters.
The US State Department said the United States has proof at "a very high level of confidence" that the Syrian government carried out the attack but is still working to identify the mix of chemicals used.
"I'm not going to say which day we absolutely knew that there was proof. The attack took place on Saturday, we know for a fact that it was a chemical weapon," spokeswoman Heather Nauert said.
"We know that there are only certain countries like Syria that have delivery mechanisms and have those types of weapons."
Asked whether she could say that the United States has proof that Assad's regime was behind the strike, Nauert said: "Yes."
You can follow any responses to this entry through the
RSS 2.0
feed.
Both comments and pings are currently closed.
//php comments_template(); ?>