RAF jets in Romania 'strong deterrent to Russia'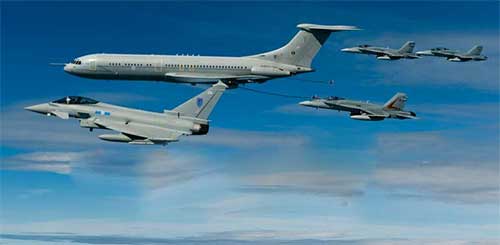 A senior officer from the RAF has said their presence in Romania has changed the behaviour of Russia because they are a "strong deterrent".
Around 150 British personnel are currently stationed in the Eastern European city of Constanta as part of Nato's enhanced Air Policing (eAP) mission alongside American and Romanian forces.
The operation was established to deter Russian aggression and the RAF is providing a large portion of the numbers through 135 Expeditionary Air Wing (EAW) based at RAF Leeming.
Taking a leading role in eAP, the RAF sent four Typhoon jets to the Mihail Kogalniceanu airbase – situated just over 1,000km away from Russia on the other side of the Black Sea.
Speaking of the difference between the capabilities of the British jets and the Romanian aircraft, Sqn Ldr Williams said the Typhoons acted as a strong deterrent to Russia.
He said: "We have an incredibly capable fighter aircraft and we operate here alongside the Romanian Mig 21s and there's a generational gap between the capabilities.
"When we are here we notice a very strong difference in the behaviour of the Russians because we are a strong deterrent."
The British personnel were deployed to Romania on April 17 for four months as part of Op Biloxi, policing the skies above the Black Sea.
You can follow any responses to this entry through the
RSS 2.0
feed.
Both comments and pings are currently closed.
//php comments_template(); ?>