Tensions et malaise entre le Mali et le Burkina : Le Colonel-major Silas Keita à Bamako pour exiger des comptes!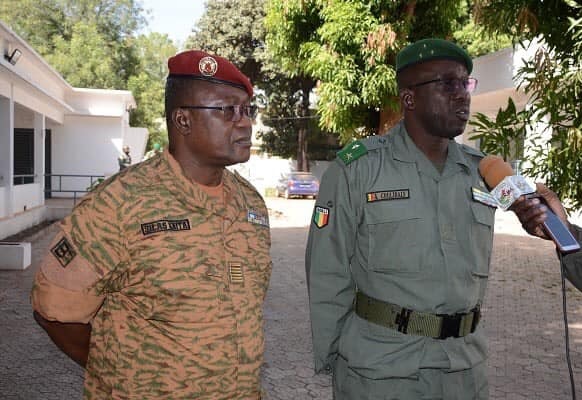 Le Mali et le Burkina Faso sont deux pays confrontés aux mêmes défis et aux mêmes menaces.
De ce fait, le contexte devrait nécessiter plus de coordination et d'action pour faire à la nébuleuse terroriste.
Il y a quelques jours, les autorités du pays des Hommes intègres ont adressé une lettre confidentielle à la hiérarchie militaire malienne, pour exprimer leur désapprobation suite à une incursion sur le territoire burkinabè. «Les militaires maliens ont (…) procédé à une répression contre les populations du village de Abaye, occasionnant ainsi trois morts, dont un broyé par les roues de véhicules ; des destructions massives d'infrastructures et de matériels »mentionne un communiqué gouvernemental.
C'est ainsi que d'après nos sources, le Directeur de la Coopération Militaire et de Défense du Burkina Faso, le colonel-major SILAS KEITA est en visite au Mali pour exiger, auprès du chef d'état-major des Armées, le général de division Abdoulaye Coulibaly, des comptes détaillés sur l'incursion des militaires maliens en territoire burkinabé. Cette incursion avait occasionné des morts et une centaine d'arrestations des ressortissants burkinabés.
Nos investigations auprès de sources militaires révèlent que la hiérarchie militaire burkinabé demanderait la libération, sans condition et dans de meilleurs délais, des personnes arrêtées. Toujours selon ces mêmes sources, elle aurait sommé le Mali de ne plus entrer sur son territoire sans se référer aux autorités militaires du Burkina Faso.
Le Chef d'État-major Général des Armées, rapporte une source, a informé son hôte que les personnes interpellées sont en cours d'identification par la police militaire et la force française Barkhane. Les autorités militaires du Burkina Faso seraient très embarrassées par d'éventuelles exactions qu'aurait commises l'armée malienne. Nous apprenons par d'autres sources que le Burkina exigerait des réparations auprès des familles endeuillées » Le CEMGA dit vouloir informer le ministre de la défense pour toutes fins utiles. Mais les deux hommes souhaitent trouver un meilleur cadre de collaboration pour l'efficacité d'une lutte antiterroriste.
You can follow any responses to this entry through the
RSS 2.0
feed.
Both comments and pings are currently closed.
//php comments_template(); ?>