Egypt reaches out to Greece amid tension with Turkey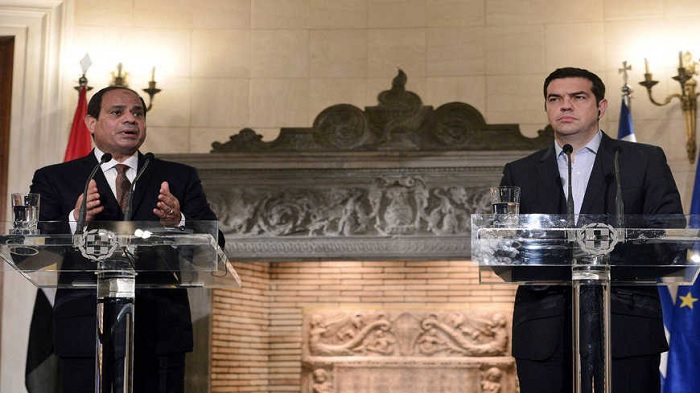 Egypt is making diplomatic moves to counter Turkey's growing involvement in the Eastern Mediterranean region amid escalating tension.
President Abdel Fattah al-Sisi received a phone call on Sept. 17 from the president of the European Council, Charles Michel. The two officials discussed a number of issues of common interest, including recent developments in the Eastern Mediterranean region and in Libya. They agreed to boost bilateral channels of consultation and stressed the need to reach a comprehensive political settlement of the Libyan issue in a bid to restore regional stability.
The phone call came after the head of Libya's Government of National Accord, Fayez al-Sarraj, announced Sept. 16 his plan to resign from his post, saying, "We [the government] did not work under normal conditions. We were the target of internal and foreign conspiracies."
For his part, Khaled Okasha, a member of the Egyptian National Council for Combating Terrorism, said in a phone intervention on "Al-Masry Afandi" show broadcast on Al-Kahera Wal-Nas TV on Sept. 17 that by resigning, Sarraj is backing the efforts to reach a cease-fire and form a new transitional government. Okasha also expects the militias to withdraw following the announcement, adding that all Libyan cities will now feel security and stability.
Greek President Katerina Sakellaropoulou on Sept. 15 hosted Egyptian Foreign Minister Sameh Shoukry, who was on an official visit to Athens upon the invitation of his Greek counterpart, Nikos Dendias. Discussions covered ways to enhance bilateral cooperation and coordination between the two countries in various fields, as well as regional and international issues of common interest.
After a meeting between the foreign ministers of the two countries, Egypt and Greece denounced any provocative acts that could destabilize the Eastern Mediterranean region and lead to confrontation. They agreed to continue making contacts with key international parties, stressing the need to work together in order to turn the Eastern Mediterranean into a "region of prosperity and cooperation" and consolidate regional and international stability.
These consultations fall within the scope of Egypt's ongoing efforts to deter Turkish influence in the Eastern Mediterranean. On Sept. 11, President Sisi and his French counterpart, Emmanuel Macron, affirmed in a phone call the consistency of interests and common positions regarding the Eastern Mediterranean region. They rejected any escalations that may harm the interests of the countries of the region, stressing that achieving security and stability in the region is a priority that calls for coordination and solidarity.
The Eastern Mediterranean region is experiencing rising tension as Turkey insists on exploring for gas near the borders of Greece and Cyprus (riparian countries with Egypt), both of which reject such exploration. In another vein, Turkish forces and armed militias are present on Libyan soil (bordering Egypt from the west) in support of the Libyan Government of National Accord (GNA) headed by Fayez al-Sarraj.
Mustapha Kamel Al-Sayyid, a professor of political science at Cairo University, told Al-Monitor the role Egypt is seeking to restore stability in the Eastern Mediterranean based on its will to preserve its economic interests in natural gas in the region. Tension in the Eastern Mediterranean negatively affects these interests, he said.
"Egypt has common interests with Greece and Cyprus. Turkey's positions that harm the interests of these countries affect Egypt by extension. That is why Egypt is trying to attract the support of major powers that can exert pressure on Turkey to persuade it into halting its moves in the region," Sayyid explained.
He continued, "The presence of Turkey and its gas exploration in the Greek economic zone affects the implementation of the maritime boundary delimitation agreement signed by Egypt and Greece on Aug. 6. Therefore, Egypt seeks to deter Turkish moves in the Eastern Mediterranean. This is part of its policy aimed to curb Turkish influence in other regions, including in Syria and Libya."
Foreign ministers Shoukry and Dendias had signed on Aug. 6 an agreement in Cairo designating the exclusive economic zone between Egypt and Greece in the Eastern Mediterranean. This zone contains promising oil and gas reserves. Meanwhile, in a statement on the same day, Turkey's Ministry of Foreign Affairs vehemently denounced the agreement as "null and void" for violating the Libyan maritime borders. The statement said the area delimited by the Greek-Egyptian agreement infringes on Turkey's continental shelf.
Mohamed Hegazy, a former Egyptian assistant foreign minister, described the security of the Eastern Mediterranean region as an "overriding concern" for Egypt and the European East Mediterranean countries in light of Turkish interventions and provocations that flared up tensions in the region, whether in Libya, Syria or Iraq.
"This Turkish intervention necessitated an active stance on the part of Egypt to push the parties toward negotiations," Hegazy told Al-Monitor via phone.
"Egypt warned on June 20 the Libyan GNA factions and pro-Turkish militias in Libya against crossing the Sirte and Jufrah 'red line' in Libya. Egypt is seeking to protect its economic interests in the Eastern Mediterranean by achieving regional stability," he added.
Hegazy stressed that the security and stability of the Eastern Mediterranean region require a vision based on understanding, reconciliation and strengthening good neighborly relations. "These are paramount goals for Egypt. This was highlighted through its maritime borders delimitation agreement with Greece, aimed to keep its (Egypt's gas) exploration activity from infringing on the continental shelf of other countries, like Turkey is doing."
On another note, Turkey had signed Nov. 28, 2019, a deal on maritime borders with Sarraj. The deal aims "to protect Turkey's rights in the Mediterranean," according to the statements of Turkish Foreign Minister Mevlut Cavusoglu at the time.
In a press release by the Egyptian Foreign Ministry on the same day, Egypt, Greece and Cyprus voiced their objection to the deal as falling outside the scope of powers of the Libyan prime minister, adding that it will not affect the rights of the countries bordering the Mediterranean in any way.
In a statement to Al-Hilal Al-Youm portal on Sept. 15, Sayed Abu-Zeid, former assistant foreign minister for Arab and Middle East Affairs, stressed the importance of the recent meeting of the Egyptian and Greek foreign ministers, indicating that Egypt is seeking Egyptian-Greek-Cypriot coordination to counter Turkish action in the Middle East.
He said Egypt wants to form a strong political position through the two European Union state-members, Cyprus and Greek, to curb Turkish regional interventions. Abu-Zeid noted that Egypt's moves to stop Turkish threats to regional security enjoy strong Arab support.
You can follow any responses to this entry through the
RSS 2.0
feed.
Both comments and pings are currently closed.
//php comments_template(); ?>