Turkey, a taboo word in Sisi's coy lexicon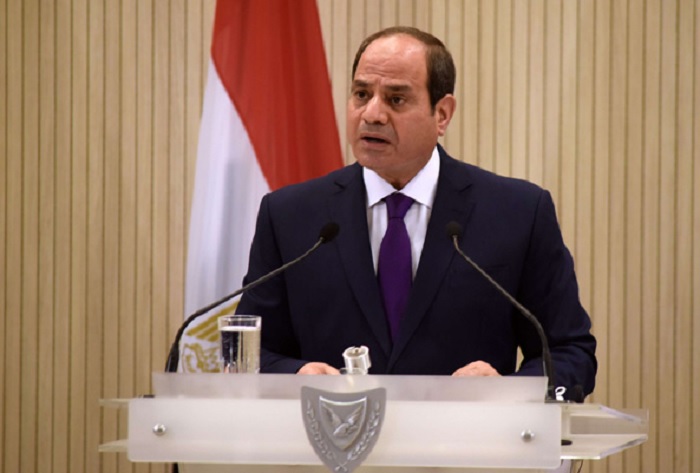 Regional analysts consider Cairo to be playing a blurry political and media game, and this disturbs some of its allies, especially the Gulf states.
Whenever Egyptian President Abdel Fattah al-Sisi refers to Turkey in his speeches, he tends to do it implicitly, and he also deliberately refers to its transgressions indirectly.
No one knows the secret behind it, especially since the dispute with Turkish President Recep Tayyip Erdogan has reached its end. Erdogan had on many occasions deliberately targeted the Egyptian President directly by accusing him of being a "putschist" or by attacking him on international occasions and in public, which is all part of his show to prove his presence on the scene.
In the summit meeting with Cypriot President Nikos Anastasiades and the Greek Prime Minister Kyriakos Mitsotakis in Nicosia, on Wednesday, Sisi used derogatory words to refer to Turkey without explicitly mentioning it in his speech before the summit, as if the word "Turkey" was taboo to him. His style contrasted with those of the Cypriot president and the Greek prime minister, who mentioned Turkey by name and attacked its role in stirring up tension in the region. This led to questions about Egypt's cautious attitude and Sisi's careful navigation in choosing his words whenever it comes to mentioning Turkey and its president, Erdogan.
In his speech before the summit, the Egyptian President stressed the need to confront escalatory policies in the eastern Mediterranean region, and the countries that support, arm and finance terrorism, and that his country "does not exploit the issue of migrants to blackmail its European partners, as other countries do."
In Sisi's opinion, the summit reflected a consensus on the situation in the eastern Mediterranean, in light of the provocative policies of violating international law, threatening to resort to armed confrontation, infringing on the sovereign rights of neighbouring countries, and transferring foreign fighters to the regions in conflict.
The Cypriot president stated that Turkey has exacerbated tension, undermined regional stability, interfered in Syria and sent mercenaries to Libya and to the Nagorno Karabakh region.
The Greek Prime Minister indicated that Ankara "is creating risks in the eastern Mediterranean, pursuing an expansionary policy that threatens the region, and continues to violate international law. Its practices led to problems within NATO, and we call on the European Union countries to stop selling arms to Turkey."
Analysts said that Egyptian diplomacy tends to be cautious and slow and is dominated by a kind of coyness whenever it comes to Turkey. They see Cairo preferring a strategy of distribution of roles, and maintaining for itself ways of retreating from its positions on many issues. They said that this approach is not limited to Turkey, but applies to most of the countries with which Egypt has a conflict.
Egyptian media outlets have regularly launched attacks on Erdogan and his regime, but with the intent of giving the impression that this is a media and popular option for which the official position cannot be blamed.
Former Egyptian Foreign Minister Mohamed El-Orabi explained that President Sisi's reluctance to engage in verbal skirmishes with countries targeting Egypt, "is part of his own style that he has followed since he took office, because these countries practice political thuggery and are considered rogue states that are outside the established diplomatic rules and norms."
Speaking to The Arab Weekly, Orabi pointed out that Egypt relies on a disciplined foreign policy and adopts long-term perspectives. The approach is compatible with Sisi's avoidance of verbal skirmishes with countries with whom it wouldn't be befitting for Egypt to engage in direct verbal attacks. His tack was vindicated in many sticky cases.
Regional analysts consider Cairo to be playing a blurry political and media game, and this disturbs some of its allies, especially the Gulf states, whose position on Turkey has become clear and public and have adopted political, media and popular campaigns against Erdogan's policies.
A member of the Defence and National Security Committee of the Egyptian House of Representatives, Major General Yahya Kadwani, said, "President El-Sisi aims to put the international community before its responsibilities regarding confronting states that sponsor terrorism and which cause provocations, and this without necessarily limiting the context to a particular country, so that Egypt is not alone in shouldering the responsibility of that confrontation."
Kadwani added to The Arab Weekly that "the states that sponsor terrorism have become obvious, and there is no disagreement now that both Qatar and Turkey are harbouring terrorists on their territories and are providing all means for the execution of hostile schemes aimed at fragmenting the Arab countries, and these states that sponsor terrorism have their own agendas for further hegemony and control in the Middle East."
You can follow any responses to this entry through the
RSS 2.0
feed.
Both comments and pings are currently closed.
//php comments_template(); ?>