IDF launches 'Lethal Arrow' drill simulating war with Hezbollah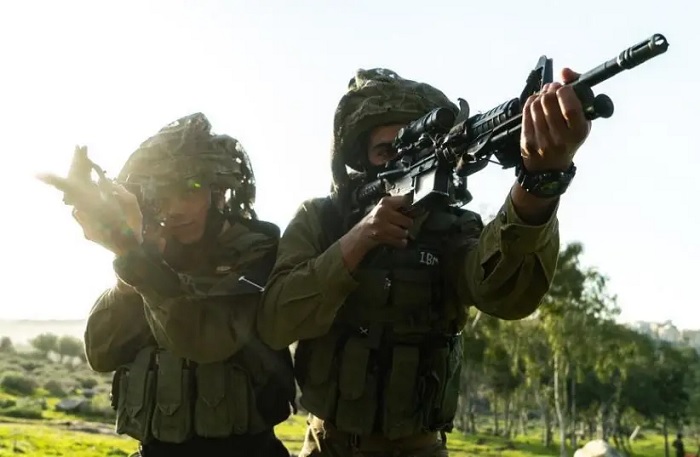 The IDF launched a large-scale multi-front exercise on Sunday morning, simulating war with Hezbollah.
Dubbed "Lethal Arrow," the multi-day general staff drill will see the participation of thousands of troops from various branches of the military including the Air Force, Navy and the Ground Forces, as well as from the Intelligence, Technological, Logistics and Cyber Defense directorates.
The drill will see activity by IDF fighter jets, attack helicopters and other aircraft and naval vessels, as well as physical maneuvers by ground forces.
"The aim of the exercise is to improve the IDF's offensive capabilities at all echelons while implementing the Victory concept and generating new procedures between key headquarters," the military said in a statement.
With more explosive fronts and Hezbollah having significantly increased its arsenals since the last war with Israel, the IDF's Momentum multi-year plan aims to make the military more lethal in scope and accuracy, and to win any future war as quickly as possible.
Despite the fact that Israel's enemies are not interested in war, the IDF has "increased its pace of preparations" for confrontation, IDF Chief of Staff Aviv Kochavi told journalists when the plan was released last year. "On both the northern and southern fronts, the situation is tense and fragile and can deteriorate into a confrontation," he said.
Israel's defense establishment has stated that any outbreak of conflict on the northern border will not be confined to just Lebanon or Syria, but will be along the entire northern front. Israel also expects potential rocket fire and other attacks from the Hamas-run Gaza Strip.
The IDF expects that in any future conflict, whether it be against Hezbollah in the North or Hamas in the South, soldiers will have to fight their heavily armed enemies entrenched in the middle of built-up civilian areas.
Though the exercise is the largest military drill of the year, it was significantly scaled back due to coronavirus restrictions; a large number of reservists were not called up to take part in the drill.
In the statement, the military stressed that the drill "has been adjusted to follow special health regulations and is being held under strict adherence to instructions to maintain the health of the participants."
The military canceled several drills due to the pandemic, including the "Keystone" general staff drill, which was supposed to take place in September. The exercise was canceled in part due to the fact that the army had planned to call up a large number of reservists, but decided against it to avoid a mass infection within its ranks.
There are currently 423 service members who are sick with the coronavirus and another 2,992 in quarantine.
You can follow any responses to this entry through the
RSS 2.0
feed.
Both comments and pings are currently closed.
//php comments_template(); ?>