Netanyahu, MBS concur on Iran, but normalization no closer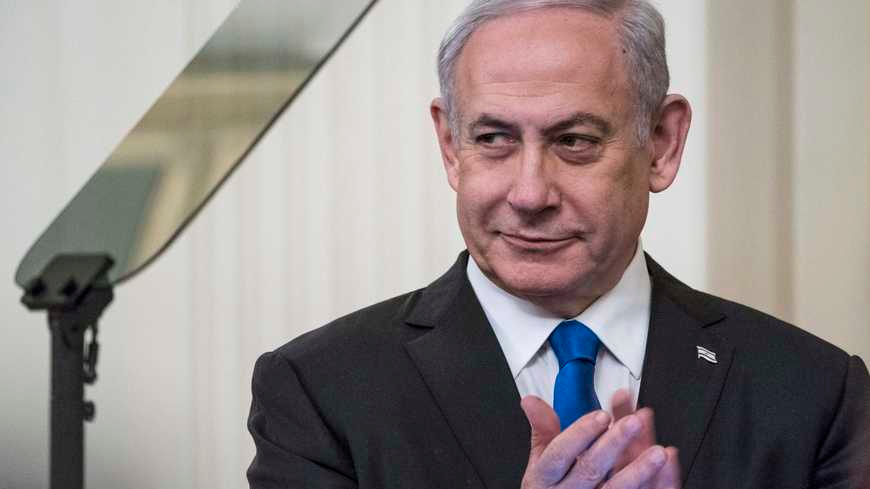 In their briefly secret meeting in Neom, Israeli Prime Minister Benjamin Netanyahu and Saudi Crown Prince Mohammed bin Salman agreed on the common threat from Iran, but did not make progress toward normalization.
Israel's military censors allowed local media outlets to report this week that Israel's leader had flown to Saudi Arabia and met there with senior officials. Prime Minister Benjamin Netanyahu met on Nov. 22 with Saudi Crown Prince Mohammed bin Salman, a meeting arranged by US Secretary of State Mike Pompeo. The censors would not have approved the news for publication without a green light from the office of the prime minister. Nonetheless, when Netanyahu was asked about it hours after the report surfaced at a meeting of his Likud party's Knesset faction in Jerusalem, he said, "Over the years I have never addressed such things and I am not about to start doing it now." His office declined to confirm the reports and his media adviser deleted the tweet he had posted hours earlier, broadly hinting at the secret visit.
Several developments appear to have occurred on the Riyadh-Washington-Jerusalem axis between the morning hours of Nov. 23, when the reports emerged, and Netanyahu's coy response that afternoon. The Saudis may have been unhappy with the leak about the meeting or the sides might have agreed in advance on only semi-official public acknowledgement of the event, with no photo ops and fanfare. One thing is certain: The leadership in Riyadh is not ready yet for official, open relations with Israel or other normalization measures, still insisting on significant progress in negotiations between Israel and the Palestinians. It may come around in the future.
In the meantime, the Saudis got what they wanted — a closing of the ranks with Netanyahu, which together with their Muslim Sunni allies form a broad anti-Iran coalition ahead of the changing of the guard at the White House, the Pentagon and the State Department.
"Netanyahu is going to lose Trump, indeed," a senior Israeli security source told Al-Monitor on condition of anonymity. "But Israel still enjoys broad support in Washington. The Saudis believe that positioning themselves alongside the Israelis in facing [Biden's pick for Secretary of State] Tony Blinken and the other professionals Biden is naming to key spots in his administration is the right thing to do. It may give them a sense of security or provide a display of power." Still, another Israeli official expressed doubt about this analysis, telling Al-Monitor also on condition of anonymity that "meeting with Pompeo is not the way to turn a new page with Biden's administration. Biden's people won't appreciate this last-minute move."
It is unclear whether Netanyahu violated an agreement with the Saudis when he lifted the lid from his meeting with them. He may have simply been unable to resist leaking the news of his historic flight to Saudi Arabia.
That morning, Netanyahu met Defense Minister Benny Gantz at the annual commemoration for the founder of the state, David Ben-Gurion. Following the ceremony, they parted ways. Gantz headed for his office, where he announced the formation of a committee of inquiry into the submarine affair, a move perceived as a declaration of war on Netanyahu, who is so far unscathed and has not even been questioned by the police. Netanyahu, meanwhile, headed off to his secret assignation with the Saudis, taking along the architect of Israel's clandestine ties with them, Mossad director Yossi Cohen, who has spent considerable time in the kingdom in recent years.
With reports of the trip the following morning, Netanyahu upstaged Gantz once again, robbing him of the media spotlight and telling the Israeli people that he was busy attending to the affairs of state and seeking to make peace while Gantz continued to engage in petty politics.
Though the Saudi denial of the meeting threw some cold water on Netanyahu and his people, no one in Israel has any illusions about the Netanyahu-Gantz unity government formed in May. Israel is careening toward its fourth elections in less than two years, probably in the spring of 2021. Though Netanyahu would surely love to exploit his burgeoning friendship with the Saudis during his campaign, normalization is still a distant goal.
The planned flight to Saudi Arabia onboard an executive jet belonging to wealthy Israeli businessmen was not reported to key Israeli office holders. Gantz and Foreign Minister Gabi Ashkenazi were kept out of the loop. Chief of Staff Lt. Gen. Aviv Kochavi — one of whose subordinates, the prime minister's military secretary Avi Blut, traveled with Netanyahu — was not informed. Netanyahu continues to conduct a one-man show even though he formed a two-headed government to run the country with Gantz as his alternate prime minister who is supposed to replace him next November.
Israeli and Saudi diplomatic sources reported that Netanyahu's meeting with bin Salman went well. They said that on Iran, the two leaders see eye to eye. The Saudis are even more worried than the Israelis that President-elect Joe Biden might take them back to the days of the Barack Obama administration, ease sanctions on Iran and renew nuclear negotiations with Tehran. At the meeting, they ensured that they were on the same page and could present Biden's people with a unified front. Netanyahu has already publicly declared that Israel hopes the United States will not consider going back to the nuclear agreement that it abandoned two years ago, one that Netanyahu views as a historic catastrophe for Israel's national security and that of the entire Middle East.
The meeting, which lasted in total just under two hours, also touched on normalizing Israeli-Saudi ties, but on this topic there was no breakthrough. The Saudis are satisfied with their current close but covert ties and would rather avoid the attention and scrutiny their neighbors have attracted.
Shortly after the Israeli jet took off from the small airport of the futuristic Saudi town of Neom, Houthi rebels fired a rocket at a Saudi oilfield near Jeddah. "We do not believe they knew Netanyahu was in the neighborhood," a senior Israeli security source told Al-Monitor on condition of anonymity. "But that rocket is an excellent illustration of the fact that the changing of the guard in Washington creates a very dangerous and unstable climate in the Middle East. Let us hope it ends without escalation on any front."
You can follow any responses to this entry through the
RSS 2.0
feed.
Both comments and pings are currently closed.
//php comments_template(); ?>