Mikdad: Assassination of Fakhrizadeh a Terrorist Act That Must Be Condemned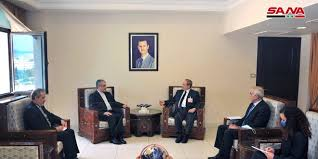 Following the assassination of Mohsen Fakhrizadeh in Tehran, the newly appointed Foreign Minister has reaffirmed Syria's commitment to Iran and the challenges it faces writes SANA.
Foreign Minister Dr. Faisal Mikdad and Iran's Ambassador to Syria Javad Turk-Abadi discussed prospects for relations between Syria and Iran and means of strengthening them in addition to developments in regional and international arenas.
During their meeting on Saturday, Mikdad expressed Syria's condemnation of the assassination of Iranian nuclear scientist Mohsen Fakhrizadeh near the capital, Tehran.
He renewed Syria's commitment to Iran in the face of desperate attempts to undermine its progress and scientific and national capabilities.
Mikdad affirmed that such crimes affect the whole world because it is not just an assassination but rather a terrorist act, which the international community must condemn.
He emphasized that the United Nations must fulfil its responsibilities in fighting terrorism and adhering to the rules of international law, otherwise there will be more tension in the region.
The minister also expressed his confidence in Iran's ability to confront such terrorist crimes that the Zionist entity, and those who back it, stand behind.
You can follow any responses to this entry through the
RSS 2.0
feed.
Both comments and pings are currently closed.
//php comments_template(); ?>