Burundi: Police shows off five "terrorists" suspected repented before the press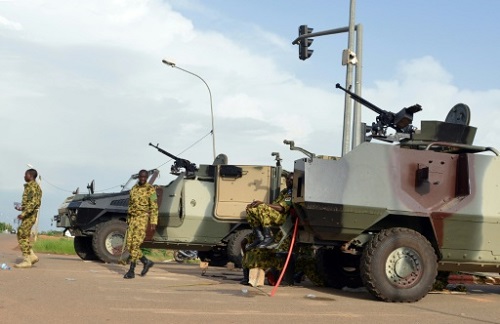 The police of Burundi paraded before the press Tuesday in Bujumbura five young men described as "terrorists" repented, they decided to "themselves" to surrender to the authorities, have we learned from police sources.
These five "terrorists" belong to "armed criminal groups disrupted security in Bujumbura, including with grenade attacks, and they surrendered themselves," said AFP deputy spokesman Burundian police, Moses Nkurunziza.
"They explained that they decided to dissociate themselves from such acts and to cooperate with the police, because they were tired and wanted to answer the call of the authorities" in this sense, a- he continued.
Two of the five repented reportedly went to the police Sunday, two others Monday morning and fifth Monday night, the source said.
Moses Nkurunziza said that their information had led Tuesday the police to a cache of weapons, which were discovered including seven Kalashnikov and chargers.
These alleged renditions involved while a series of grenade attacks left one dead and 32 wounded Monday in Bujumbura, police said. The NGO Doctors Without Borders (MSF) spoke of two dead and 61 wounded.
The version of the police regarding these supposed repentant is however very disputed on social networks, where many opponents denounce "a masquerade".
"To see the confidence with which these pseudo-terrorists were speaking, we have reason to believe that this is an assembly of the power to put on the back of armed resistance groups these grenade attacks on civilians, which constitute war crimes, "responded Wednesday to AFP Vital Nshimirimana.
You can follow any responses to this entry through the
RSS 2.0
feed.
Both comments and pings are currently closed.
//php comments_template(); ?>