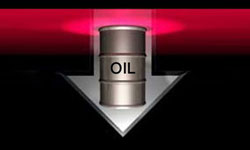 TEHRAN (FNA)- Oil prices slid by more than $1, reaching $55.75 a barrel on the Singapore market amid news that OPEC may not cut production. On Monday, US light crude for December delivery dropped $1.29 to $55.75 a barrel in Singapore, while in London, Brent crude fell by 89 cents to reach $53.35.
Oil prices were hit by news that the OPEC may not cut production at its upcoming meeting in Cairo and by reports that Japan and the Eurozone are officially in recession.
Oil prices have tumbled by almost two thirds since peaking at $147 a barrel in mid-July.
Following Friday's announcement that the 15-nation Eurozone has officially fallen into recession, Japan – the world's second-largest economy – confirmed Monday that it has slumped into recession for the first time since 2001. Fear that a global slowdown could weaken demand for crude is one of the key forces behind the recent downward trend in oil prices.
Iran's OPEC Governor Mohammad Ali Khatibi Sunday called for an output cut in order to stabilize prices, stressing that the cartel needs to act to slash output because demand for oil has declined due to the global financial meltdown.
"It is best that at the urgent meeting in Cairo a decision be made for another decrease of one million to 1.5 million barrels per day," Khatibi said.
"Thus, a balance between supply and demand is reached," Khatibi said, adding that the extent of any potential cutbacks would depend on whether the global financial crisis deepened or not.
The Organization of Petroleum Exporting Countries cartel is scheduled to hold an extraordinary meeting on November 29 in Egypt amid speculation that member nations will agree to cut output in a bid to boost plunging oil prices.
But this weekend, OPEC President Chakib Khelil downplayed the possibility that the group would decide to cut production at its November 29 emergency meeting.
OPEC agreed on October 24 to reduce production by 1.5 million barrels a day from November 1, but prices have continued to slide since then.
A stronger US dollar also helped push oil prices down, as speculators often buy oil futures as a hedge against inflation and a weaker dollar and sell when the dollar gains.
Iran has repeatedly warned producers about an oversupply in the market, saying that the prices will keep the downward trend as long as the market is oversupplied.
Khatibi also on Sunday warned against oversupply and said that the members violating the cartel's set quotas would push down prices.
"OPEC countries should know that they must remain committed to their obligations, otherwise prices will fall even further," he said.
"The downward trend of oil prices and an increase in the stockpiles of large industrial countries indicate an oversupply."
The cartel, which will also meet as scheduled in Oran, Algeria on December 17, has made it clear that it would consider another output reduction if the price of crude remains below 70 dollars a barrel.
"In their latest comments, OPEC members have favored an oil price of between 70 dollars and 100 dollars a barrel," Khatibi said in an interview with the state broadcaster.
"Prices below these figures will trouble oil investment and the production cycle of these countries," he added.
Khatibi also called on non-OPEC oil-producing countries to join the cartel's bid to help the market.
"We need non-OPEC members to cooperate with OPEC… and decrease their production somewhat. If they raise production, it merely counteracts the OPEC measure," he said.