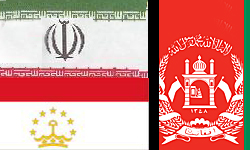 TEHRAN (FNA)- The foreign ministers of the three Persian-language speaking countries, Iran, Tajikistan and Afghanistan are scheduled to meet on trilateral ties within a month.
The top diplomats will discuss ways of developing Iran and Tajikistan electricity network projects to be connected via Afghanistan, Tajik Foreign Minister Khamrokhon Zarifi said on Wednesday in a meeting with Iranian Minister of Commerce Massoud Mir Kazemi in Dushanbe.
Pointing to Iran and Tajikistan's resolve to solve the problems on the way of the two countries' bilateral ties, he reiterated that Dushanbe consults with Tehran when facing any economic and political issues.
Mir Kazemi who is in Dushanbe for a 2-day visit, for his part, stressed the good relations between the two countries and announced his country's preparedness to invest in Tajikistan and share its experiences in the field of fisheries, industry and agriculture.
He also referred to some agreements between the two neighbors on promoting economic activities, export of goods and technical and engineering services.