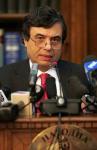 Belgrade will probably need a bigger International Monetary Fund loan than the 402.5 million euro foreseen by a deal it signed a month ago, and it will also need to make tough choices in tightening its fiscal policy, IMF deputy managing director Murilo Portugal said on Tuesday.
Serbia sought the 402 million euro loan late last year, calling it a precautionary measure to reassure investors that its economy was stable, spending would be reined in and reforms would continue. In the two months since, the dinar currency plummeted to historic lows despite heavy central bank spending to prop it, and several attempts at selling off state companies failed, cutting into Serbia's budget revenue proejections. With a chorus of analysts saying Belgrade needs at least 2.0 billion euros to close the balance of payments gap and keep the dinar from sliding further, the Serbian government started making noises about revising the deal, this time being upfront about needing the money to finance its deficits.
Portugal told a news conference in Belgrade that the global economic crisis will have an impact on Serbia by slowing down its GDP growth, cutting into budget revenues, including capital inflows, and causing the fiscal deficit to widen.
"We think that circumstances are such that (Serbia) will require more financing and more adjustment," Portugal told reporters.
Economic circumstances had worsened since the original deal was negotiated, Murilo said, adding he had spoken with Serbian officials about additional IMF funds "but also on changing the type of the deal". He explaine that Serbia could go from having a stand-by deal, which means having the funds on the side as a reserve, to "an agreement that would mean the additional drawing of funds".
"Tackling Serbia's significant macroeconomic imbalances requires both additional external financing and stronger overall economic policies," he said.