KABUL (AFP) – Three soldiers in the US-led coalition helping to fight a Taliban-led insurgency in southern Afghanistan have died after their patrol was hit by a bomb, according to the US military.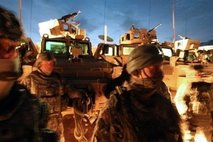 The three were killed on Friday in the southern province of Uruzgan, it said in a statement. It did not give their nationalities.
"Three coalition service members died of wounds sustained from an improvised explosive device during a combat reconnaissance patrol in the Uruzgan province, Friday," it said.
Many of the troops in Uruzgan — where Taliban have a strong presence — are Australian and Dutch nationals serving with the NATO-led International Security Assistance Forces.
Soldiers in a separate US-dominated coalition work alongside ISAF and the growing international forces.
The latest fatalities take to 39 the number of international troops to lose their lives in Afghanistan this year, most of them in attacks, according to the icasualties.org site that tracks the conflicts in Afghanistan and Iraq.