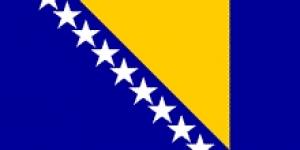 After near 10 years of interethnic deliberations, a commission has agreed on the text of Bosnia's national anthem.
The melody of the Bosnian national anthem was adopted in June 1999, but politicians were unable to agree over its text. The new anthem, with both melody and lyrics, was performed for the first time on Friday, and this week will be sent into urgent procedure for adoption by the country's state government and the parliament.
"We are going into the future together," the anthem says at the end.
The current text has been put together by combining two of the best proposals among more than 300 received through an open contest. The two authors, who will share the prize of 15,000 Euros, are noted composer Dusan Sestic and musician Benjamin Isovic. Sestic is also the author of the anthem's melody, which had also been agreed on after a public tender.
The text of the anthem immediately triggered debate and comments from the Bosnian public for mentioning neither the country's two entities nor its three main ethnic groups.
In her comment published in the Banja Luka daily Nezavisne Novine on Monday, journalist Rubina Cengic said the new anthem is not especially inspiring, but it is "politically correct" and has so far received almost equally positive and negative comments "which in our case is good."
The Anthem and its lyrics, still only available in the local language, are as below:
Ti si svjetlost duse
Vjecne vatre plam
Majko nasa zemljo Bosno
Tebi pripadam
Divno plavo nebo
Hercegovine
U srcu su tvoje rijeke
Tvoje planine
Ponosna i slavna
Krajina predaka
Zivjeces u srcu nasem
Dov'jeka
Pokoljenja tvoja
Kazuju jedno:
Mi idemo u budućnost
Zajedno!