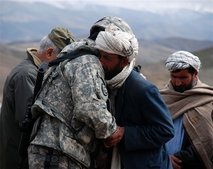 KANDAHAR, Afghanistan – A battle just outside southern Afghanistan's largest city has killed at least six Taliban fighters, while an airstrike against militants elsewhere in the south killed eight, officials said Sunday.
A battle in the Panjwayi district — 15 miles (25 kilometers) west of Kandahar city — began late Saturday after Taliban militants ambushed a police patrol, wounding two officers, said Abdullah Khan, the province's deputy police chief.
NATO and Afghan forces responded, unleashing bombs that could be heard by residents in Kandahar city. Khan said at least six militants have been killed in the fighting, which continued into Sunday.
In neighboring Helmand province, an airstrike on a minivan killed eight militants late Saturday, said Daud Ahmadi, the governor's spokesman. Ahmadi said an informant told the government that insurgents were riding in the vehicle and authorities told coalition military officials, which hit it with an airstrike.
Southern Afghanistan is the Taliban's spiritual homeland and the most violent region in Afghanistan.
The militants, which were driven from power in a 2001 U.S.-led invasion, have increased their attacks the last three years and now control wide swaths of the countryside.
President Barack Obama announced last week that the U.S. would send 17,000 additional forces to Afghanistan to bolster the 38,000 Americans already in the country.
Many of those forces are expected to deploy to the south to back up British troops fighting in Helmand and Canadian forces fighting in Kandahar.