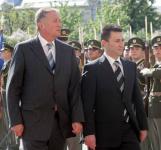 The approaching presidential and local elections in Macedonia will be a litmus test for the country on its way to EU, the current EU Presidency holder, the Czech Prime Minister Mirek Topolanek, said late Tuesday in Skopje.
During his one day stay visit to Skopje, Topolanek met Macedonian President Branko Crvenkovski, Parliamentary Speaker Trajko Veljanovski and Premier Nikola Gruevski.
"We all know that these elections are something of a matriculate exam for your country. We expect for them to be conducted without irregularities, to ensure that last year's incidents are left behind as an exception," Topolanek said to local media.
The March 22 poll will be closely scrutinized by the EU as last year's June general election was marred in violence and fraud, earning negative points for the country.
Topolanek was optimistic that Macedonia will be able to fulfill all the eight membership benchmarks that it received from the EU last year. With these benchmarks implemented and a positive result from the election, he said, the country could hope for the complete removal of visa requirements for Macedonians traveling to the EU by the beginning of 2010.
As for the date for the start of the EU accession talks that Macedonia have been waiting for since 2005, he said that "the unfortunate dispute with Greece would remain as the single problem to be solved".
In April, Athens blocked Skopje's NATO accession under the name Macedonia and has threatened to do the same for its EU aspirations pending a solution for the ongoing row. Athens says that the name Macedonia used by Skopje implies territorial claims over Greece's own northern province also called Macedonia.
During Topolanek's visit, Macedonia's PM Gruevski expressed hope that the UN talks for resolving the name dispute will intensify after the elections in both countries end, somewhere after June.