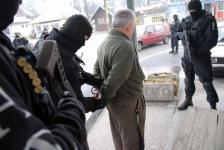 Bosnian police forces mounted an overnight operation in the southern suburbs of the capital of Sarajevo, hunting down nine armed convicts who had earlier escaped from a prison in the eastern Bosnian town of Ustikolina.
By midnight, police had located and arrested four escaped convicts while the other four were arrested by Wednesday early morning. The search for the remaining ninth prisoner continues, police officials said and added that all available police forces have been deployed and engaged in the search.
Police from both Bosnian entities – the Bosniak (Bosnian Muslim)-Croat Federation and Republika Srpska – participated and cooperated in this operation.
According to the Sarajevo police spokesman, Dragan Miokovic, nine convicts escaped from the Ustikolina prison on Tuesday evening after a brief armed mutiny, in which they overwhelmed their guards, stole two vehicles and drove towards Sarajevo. The group included several convicted murderers and drug traffickers.
Federal Justice Minister Feliks Vidovic said one prison guard was injured and hospitalized during the mutiny. He added that over the past few days there were no indications of any trouble in the prison in Ustikolina, and there were currently no other details about the incident or the motive behind the escape.
Only a few hours after the escape, police located the two vehicles used in the escape, abandoned in the southeastern Sarajevo suburb of Vojkovici, which lies near the line separating the two Bosnian entities.
After leaving their vehicles, the escapees scattered into several smaller groups. Four of them were arrested in the first few hours, while the other four were arrested by Wednesday morning. The search for the remaining convict continues, police officials said. There were no reports that anybody was injured during the operation.
"The situation is under control," Miokovic told media.
Federal Justice Minister Vidovic stressed that this episode has once again underlined the burning problem of the sparsely, inadequately and poorly staffed correction facilities in Bosnia.
This problem has repeatedly returned to the focus of public attention over the past two years, as officials have admitted that available prison facilities are already overcrowded, while hundreds of convicted criminals – including murderers – walk free for months and even years, awaiting for space to open up in the correction facilities.