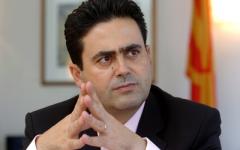 Imer Selmani, the head of the freshly formed New Democracy party has a serious chance of becoming the first ethnic Albanian to ever enter the second round of Macedonia presidential election, the latest opinion poll shows.
The presidential candidate of the main ruling VMRO DPMNE party, Georgi Ivanov leads the popularity ratings by far. 23.1 percent of the respondents said they would vote him in the poll made by the local Centre for Research and Policy Making. 
Selmani with 13.3 percent popular support is second. According to the research done on March 07-09 during the first week of the election campaign, the candidate of the main opposition, the Social Democrats, Ljubomir Frckoski is ranked third with 9.7 percent.
He is followed by Agron Buxhaku from the ruling Albanian party, the Democratic Union for Integration, DUI with 8.1 percent, the independent candidate Ljube Boskoski with 6.3 percent, Nano Ruzin of the Liberal Democrats with 3.9 percent and Mirushe Hoxha from the opposition, the Democratic party of Albanians, DPA.
A substantial portion of the respondents, 23.9 percent said they have not decided yet and 5.9 percent said they will not endorse any of the candidates.
The presidential poll together with the local election in Macedonia is slated for March 22.If enters the second round that is set for two weeks after the firs Selmani has more chance of endangering Ivanov's lead than Frckoski, CRPM says.